Taking care of an aquarium is a great hobby. Besides providing long hours of enjoyment and release of all the accumulated stress, it also acts as a great avenue for your kids to learn.
Learning about the underwater world is great once the child grows up. It not only enhances their knowledge, but also keeps their mind fresh. 
I am especially talking about mental relaxation here because in today's world, psychological problems have become common.
With all the stress and everything, even the kids nowadays suffer from mental health problems. So for them and adults as well, keeping an aquarium is the right decision.
Adding to the above-mentioned benefits, aquariums also contribute to your health:
They benefit your physical and mental health in more than one way.
Apart from cheering your mood, they reduce your blood pressure level, your heart rate and body pain.
Also, it helps you in getting a good night sleep as the sound of bubbles and flowing water soothes the mood.
And if you sleep well, your productivity ultimately increases!
Fish keeping is an art which is being discovered by more and more people lately. It allows you to take the unique opportunity to observe as well as create a whole different world.
In this process, you learn about different aquatic animals, their behavior and their lifestyle. Besides, aquariums are a beautiful and fascinating addition to any home or office as people nowadays days have become very fond of adorning their home with different kinds of stuff. Every year, people around the world are discovering the natural wonders of aquariums.
Fish is often thought of as a no fuss pet. While it is true, they require a lot of caring and attention. They indeed do not make your home a mess like dogs or cats but unlike them, they demand special attention and care. 
So this is the first decision you have to make after finding out how demanding these creatures are, whether you would like to have them or not.
If you are a student, you must be living with your parents, which eases the task of feeding fish and cleaning the aquarium. 
But if you are a working individual who lives alone, you certainly need to think twice. All the responsibilities that comes with aquarium, are not easy to take care of.
It will cost you a lot of time and manpower. However, you can invest in good quality and automatic gadgets to make the task easier for you. But still, man work will be required.
Moving on to the responsibilities that comes with an aquarium, I must tell you that it is not easy. An ill-kept aquarium is very deadly for fish and other creatures so you should learn about it by doing a proper research.
I have prepared a checklist for you which enlists all the gadgets needed to take care of the aquarium and the creatures inside. 
It includes everything, from very important equipment to less important ones. You can go through it. It will assist you to a great extent in learning about the uses, pros and cons of aquarium gadgets. So here you go!
Aquarium Checklist:
Fish tank
Tank stand
Filtration system
Hood or lid
Lightning
Heater
Thermometer
Water conditioner
Fish net
Substrate
Siphon
Fish food
Algae remover
Air pump
Decoration items
You can even use sponge filters, if your aquarium supports it, for cleaning purpose. We have reviewed the best sponge filters available.
Overflow box is another important equipment for the fish tank. It makes sure that your display tank consistently maintains the optimal level of water all the time. If you are looking for a Sleek HOB read our Reviews of Best HOB with look great.
Picking the right aquarium supplies is one of the most interesting things to do. Doing a good amount of research beforehand relating to which aquarium supplies are best suited for which species, can be a lot of fun. 
You can do it on your own. Or you can take the help of an experienced individual. Either way, you will get to learn a lot about them and it is also a very interesting task.
We all know that there are a great amount of aquarium supplies available in the market which keeps the options almost limitless. 
All the supplies available online, come with reviews and all the required information. So with such a great help, nothing could go wrong.
Adding to it, many suppliers even provide a reference book along with the equipment. These reference books come handy at the time of need. 
Whenever the customer care is out of reach or in case there is no customer care number of the company, you can take the help of the manual.
Choosing the right aquarium supplies can prove to be a hectic task sometimes. So here I have made the task easier for you by explaining some of the most common aquarium supplies and my thoughts on them.
Fish Tank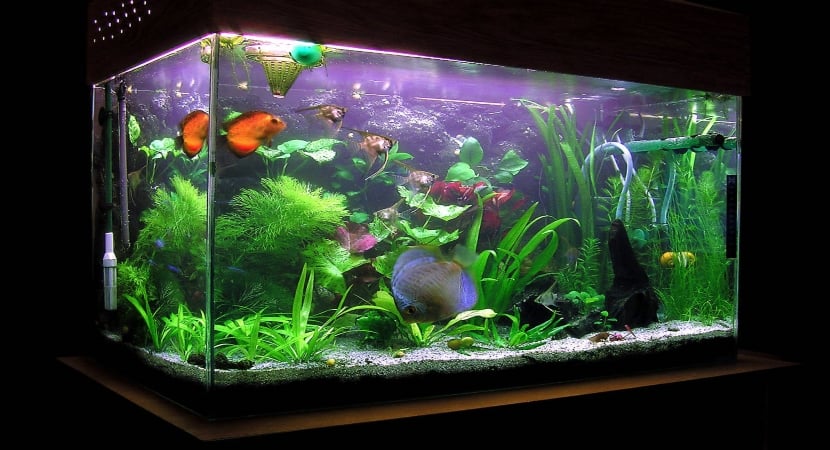 A fish tank is the basic item needed for keeping a fish inside your home. However, some people choose to skip on it. They keep the fish in a jar or any other type of container.
Honestly, it is not at all a good idea to use anything but a real and ideal-sized aquarium. You would risk the marine life if you keep them in any other type of container. 
Understand that there is a reason why these fish tanks have been created and a reason why people keep using them.
Now coming to the size of an ideal aquarium – the larger the better. A large fish tank is the best choice to go for if you have enough money and the required space in your home. You cannot place a 55-gallon tank in a dorm room. It will take up all the space and you will face problems in cleaning and moving out and about at your place. However, for a 20-gallon fish tank, almost anyplace will do. They are neither big nor too small but the perfect size.
Smaller fish tanks on the other hand, are also not a bad choice if you want to keep a goldfish. The basic thing to consider before buying an aquarium is to first decide what kind of species you are going to keep inside it. Because, species like barbs and danios obviously cannot survive in a small size tank. While angelfish and discus are not so active species so they are an ideal choice for smaller aquariums.
​​​Another point to consider while buying a fish tank is the quality. Fish tanks usually come in 3 types of materials – plastic, glass and acrylic. While plastic fish tanks are perfect for small children who like watching them just for an entertainment purpose, glass and acrylic ones are for adults. Among the two, glass is more delicate while acrylic is a very durable material. Besides this, it is light in weight, not as thick as glass, comes in various shapes and lastly, does not refracts light.
While acrylic fish tanks have a lot of advantages, glass ones have their own set. Glass is a very cheap material compared to acrylic. Moreover, it is scratch-resistant, does not turn yellow over time like acrylic and lastly, glass aquarium stand does not need to have a bottom support. Which means, money is saved on the stand as well.
Last update on 2021-12-13 / Affiliate links / Images from Amazon Product Advertising API
Aquarium Filter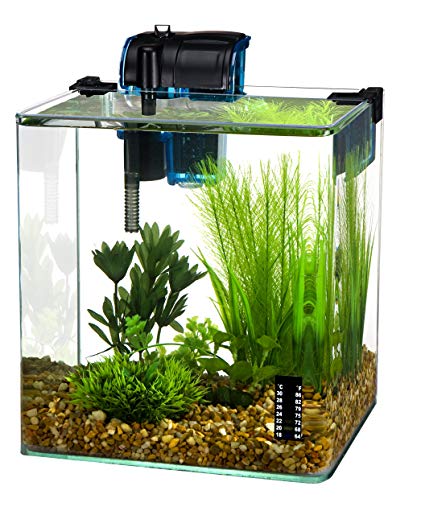 A filtration system is one of the basic equipments required to keep the fish. No one should keep the fish in captivity like an aquarium, without installing a proper filtration system running all day. It is so much important because the marine life is dependent on it. Without it, the fish is certain to die.
An aquarium filter works in 3 different ways - biological filtration, mechanical filtration and chemical filtration. 
As we know that toxic ammonia is released from fish waste and leftover food. Without a proper filtration system, the ammonia and food pollute the water and ultimately kills the fish.
Last update on 2021-12-13 / Affiliate links / Images from Amazon Product Advertising API
So make sure to get the right filtration system installed in your aquarium. Some of the most common types of filters include canister filters, power filters, fluidized filters and wet or dry filters.
Choose the right size and type which suits the dimensions of your tank. And also remember that filter cartridges needs to be changed at least once a month.
Water Conditioner
The tap water we use to fill the aquarium contains chlorine and chloramines in it. Both the chemical compounds are harmless to us but the case is not same with fish. These chemicals are very dangerous to marine life and can even kill them. This is the reason why water conditioners are required.
Last update on 2021-12-13 / Affiliate links / Images from Amazon Product Advertising API
The aquarium water conditioner neutralizes the effect of both the chemicals and makes tap water safe for fish. Most of these conditioners are available in liquid form. 
You just have to add a few drops of it to the bucket and the rest it will do. Just a bottle of it lasts for months, which makes it a reasonable product.
Fish Food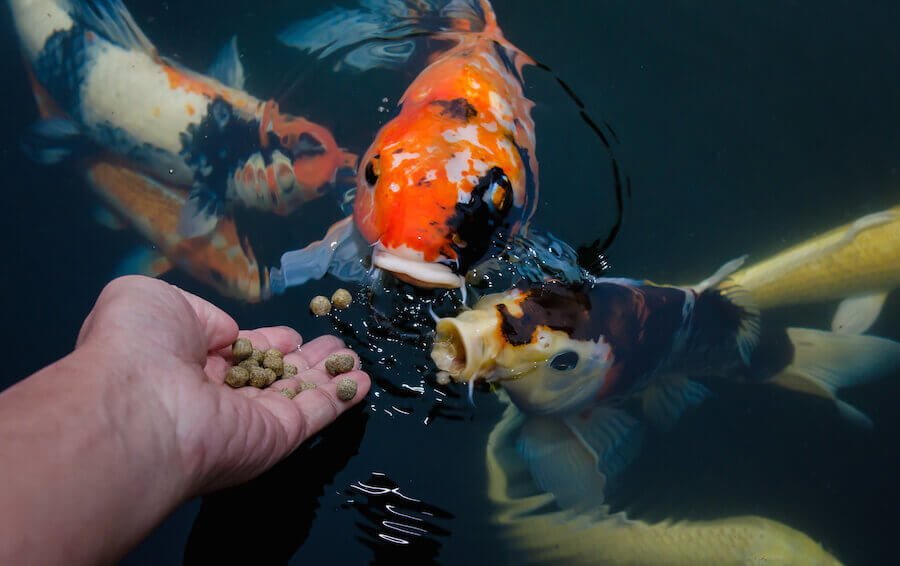 Feeding your fish with the right food is crucial for their survival. There might be different types of food available for different kinds of fish but you need to consider a number of things before purchasing them like,
Size of pellets should be according to the mouth of the fish.
Find out if the food floats or sinks in the water. The one that floats is perfect for surface-feeding fish while the one that sinks to the bottom is perfect for the rest.
Hardness of the food – as the freeze-dried food may be difficult for them to swallow.
Nutrient requirement of the fish – some fish feed on vegetables while some are carnivores.
There are several food options available out there that you can give to your fish. All you need to know is the right brand to buy. Some of the top branded fish food are: TetraMin Tropical Flakes, New Life Spectrum Thera-A Medium 2mm, Tetra Veggies Algae Wafers and so many more.
Last update on 2021-12-13 / Affiliate links / Images from Amazon Product Advertising API
Some people feed their fish with human food. It does not work that way as fish thrive on food that is high in protein content and human food cannot fulfill that requirement. 
Some people feed the fish with bread or rice which are rich in carbohydrates. But the organisms cannot fully sustain on such food. However, you can give them some raw or cooked plain fish meat but with no additives.
Automatic Fish Feeders
Feeding Fish at regular intervals and in prescribed quantities, plays a very important role in growth of fish in a proper way. If this is not followed fish can become constipated and sick. If fish is fed too much food, it can even bloat up and become obese.
Underfeeding or Non Regular Feeding is also a big problem which may lead to sickly looking fish and may lead to diseases in fish due to low immune levels.
Automatic Fish Feeders are god send for fish lovers as they dispense right amount of food at right intervals, which keeps the fish feeding necessities taken care of. There are no chances of missed feeds with automatic fish feeders.
Do look at our Researched Buying Guide of Automatic Fish Feeders for more info.
Air Pump
This is one aquarium equipment that is either necessary or optional, it all depends on the type of filter your fish tank has.
If you are using a filter that requires an air pump to work, then it is necessary. However, if you are using an external power filter or canister filter, then an air pump is optional.
Air pump gives direction to the items which require air to move. In most of the aquarium, it is a must for promoting gas exchange between the water and atmosphere.
Without it, the marine life will not get enough oxygen. It is powered by a magnetic arm that vibrates a rubber diaphragm which pushes the air through a nozzle.
Read our In Depth Reviews of Top Air Pumps for choosing a suitable air pump for your setup.
Last update on 2021-12-13 / Affiliate links / Images from Amazon Product Advertising API
If you use a hang on the back power filter, the water coming from the filter outflow automatically creates enough surface movement. As a result, you need not spend so much money on air pumps if the filter creates a waterfall.
Heater
If you own a tropical aquarium, getting a heater is essential. As most of the fish require a particular temperature to survive, the aquarium heater keeps the water temperature constant.
These heaters can be hanged to the sides or submersible in the tank. They also have a numerical setting or simply an increase and decrease setting. 
According to me, the submersible one is a better choice. It might cost you a bit more but trust me, they are worth it.
It is rated in watts for tanks of different sizes. You have many options to choose from - glass material or plastic material. 
Some of them even make use of different colored lights to tell when the tank is on heating mode and when it has reached the set temperature.
Read our Detailed Guide of Best Aquarium Heaters to choose one for yourself.
Under tank heaters are also available in market to keep the water temperature stable for reptiles, amphibians and plant terrariums.
Water Chiller​s
Like Heaters, some Tank Setups require water chillers to cool down the water. Chillers may be required depending on the type of fish as some fish like colder water, water heating due to lights, pumps, wave maker etc., overall environment where aquarium is kept.
They come in different types, sizes and models for different kind of aquarium setups. Need more info? Read all about Aquarium Water Chillers.
Last update on 2021-12-12 / Affiliate links / Images from Amazon Product Advertising API
Canopy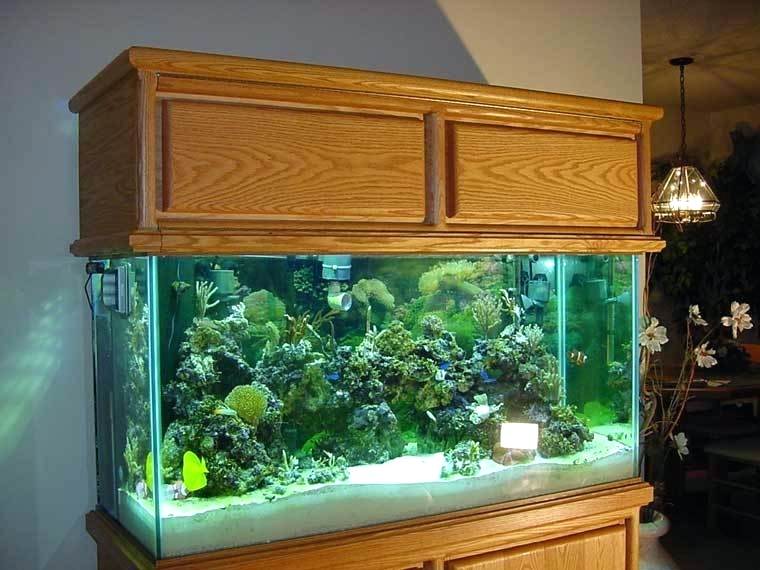 Some fish species stay on the surface of the water and jump here and there. If your tank does not have a canopy, there is a great chance that the fish might jump out of the tank and die.
So having a canopy can avoid such unfortunate accident. Moreover, it also slows down the evaporation of water.
If you have a tropical aquarium, canopy can help slow down the release of heat. Eventually, it saves you a great amount of electricity as the heater need not be turned on so often.
Most canopy comes with light fixture which makes the aquarium look 10 times more beautiful. Moreover, live plants also require adequate lightning to survive.
Hood/Lid
When a lid and light are joined into one unit, it is called hood. The lid covers the top of the tank and prevents the water from evaporating and it also keeps the fish from jumping out which helps maintain the water level in the tank. It also protects the light from getting wet.
This combo is a great purchase as it is made of plastic which makes it less expensive, weigh less and unbreakable. On the other hand, glass lids are easier to clean, allowing more light to enter the tank and provides a tighter coverage.
Last update on 2021-12-13 / Affiliate links / Images from Amazon Product Advertising API
Aquarium Stand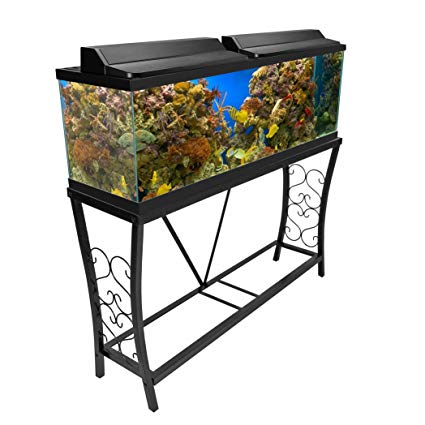 Aquarium stands are a must for large and medium sized aquariums. If you do not have a furniture with smooth surface, you might be needing a separate stand for it.
It not only makes the aquarium looks even better but it also keeps it safe. Some people keep the fish tank on floor which is an absolutely absurd idea. In this angle, you cannot only view the fish, but it also makes the tank vulnerable to breakage.
Aquarium stands are available in 3 types of materials – metal, wood and mixed media. You can choose from these 3 depending on the type of aquarium you have.
Metal fish tanks are exclusively designed for glass fish tanks as they only support the edges. Secondly, they do not provide storage space for fish tank equipment. Since the stand is made up of metal, it is vulnerable to corrosion. However they are pretty cheap and easily available.
Wooden fish tanks are best for people who love decorating their home with fancy furniture. These tanks come in various shapes and sizes which makes them perfect. They have enough storage space for fish tank equipment below. And lastly, they provide full base support to the aquarium which makes them ideal for acrylic fish tanks.
As its name suggests, Mixed Media is a mix of wood and metal. It provides full bottom support just like wooden fish tanks but the fasteners are made up of metal. However, they are a bit expensive.
Last update on 2021-12-13 / Affiliate links / Images from Amazon Product Advertising API
Fish tank stands are not essential for very small aquariums. Like a bowl-shaped one with hardly one goldfish inside. Such aquariums can be put on a study desk or table.
Gravel Vacuum or Siphon Cleaner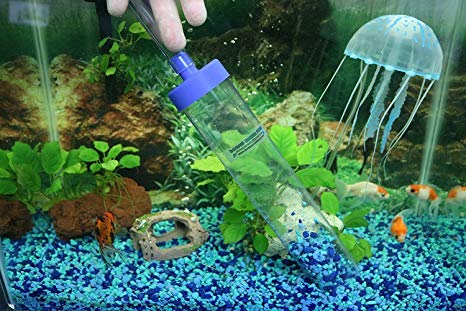 If organic waste is not removed from an aquarium on time, it can spike the ammonia level, nitrate level and other issues. In such cases, an aquarium gravel vacuum comes handy.
It is a very important aquarium supply. It allows people to clean up the tank without putting their hand inside. With this equipment, you can remove uneaten food, debris, feces from the bottom and dead plant matter easily.
The siphon cleaner comes with a wide plastic aperture cylinder for cleaning the gravel or substrate. The dipping cylinder is attached to a long narrow tube which draws off the debris and tank water into a bucket.
These are another type of cleaner also available which is battery operated and unlike the previous one, it filters water back into the aquarium, while collecting the waste in a fine mesh net filter.
Last update on 2021-12-13 / Affiliate links / Images from Amazon Product Advertising API
Fish Net
Fish net is one of the most common aquarium supplies. Aquarists often keep one spare fish net with them for emergencies.
They are used to catch fish and also to clean the debris or leftover food inside the tank. It can also be algae or some dead organism.
It comes in various sizes – from small to large. The size of these nets are generally dependant on the size of the aquarium and sometimes, also on the size of the species living inside.
You can buy a large fish net for cleaning purpose. While for catching purpose, a medium or small sized fish net will do.
Last update on 2021-12-13 / Affiliate links / Images from Amazon Product Advertising API
Aquarium Lights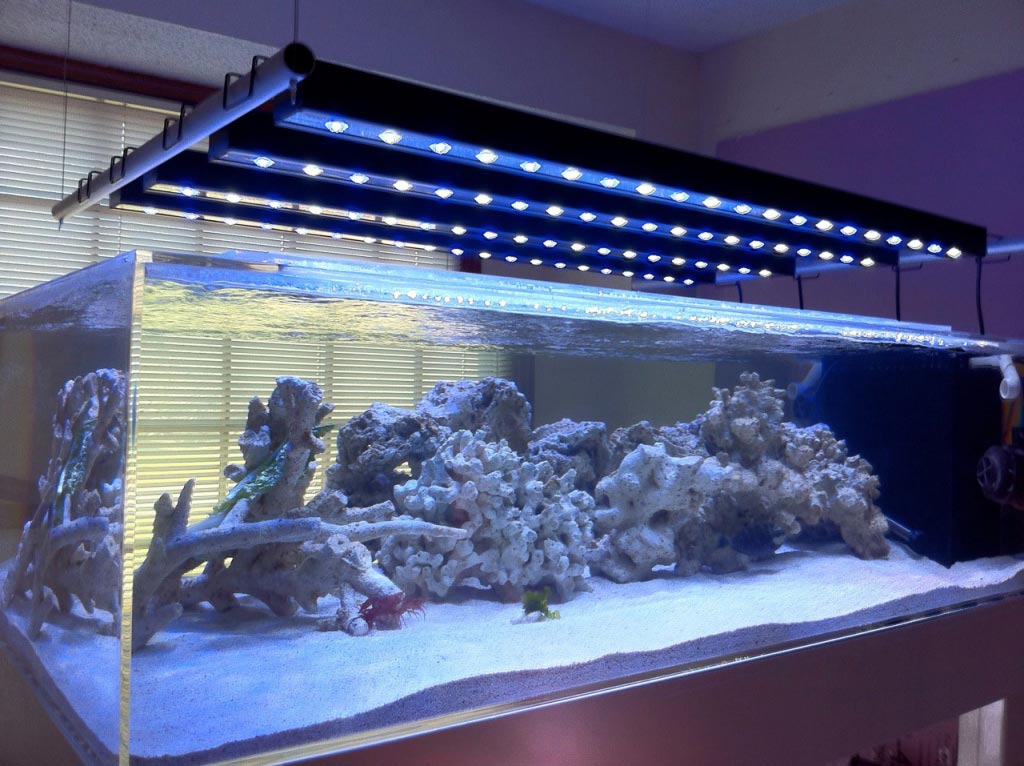 As I have told you earlier, the lights often come packed with the lid but you have the option of purchasing them separately.
If you are a beginner, then I would recommend you to go for fluorescent or led lights. They are easy to maintain, operate and do not heat up the aquarium quickly. Also, they are comparatively cheap.
Have a look at Review of 8 Best LED Lights and Best Aquarium Lights Overall.
Last update on 2021-12-13 / Affiliate links / Images from Amazon Product Advertising API
Light options include incandescent, led, halogen, mercury vapor, metal halide and fluorescent.
Thermometer
Aquarium thermometer is a liquid crystal stick-on which gives the temperature of water. It is inexpensive. Thermometers are essential if you are planning of breeding fish inside the fish tank or in case you want to keep a delicate fish.
Last update on 2021-12-13 / Affiliate links / Images from Amazon Product Advertising API
Live Bacteria Seeding Product to establish Aquarium Nitrogen Cycle
If you have purchased a new aquarium, it obviously is not cycled. If you do not treat such aquariums to establish a proper nitrogen cycle, the ammonia will quickly build up and eventually kill the fish.
Once you put a fish inside the aquarium, ammonia starts building up continuously. After sometime, when the aquarium is well-established, there are lots of good bacteria set up which feed on the toxic ammonia. 
It usually takes 4-5 weeks to build up the necessary quantity of good bacteria. The process is so slow that when it eventually happens, fish are long dead. But fortunately, the live bacteria products available in the market make it so much easier to cycle a newly established aquarium.
Gravel or Substrate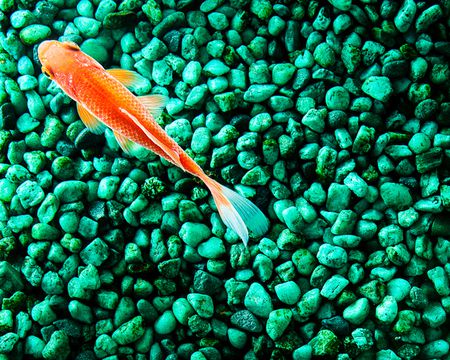 Gravel inside a fish tank, gives it a more natural look. When aquariums look natural, it is a treat to the eyes. Moreover, it is also a threat to the marine organisms living inside for whom, it mimics their natural habitat. 
Some species can do good without gravel but some species like corydora catfish, find it hard to live in an unnatural habitat. They love digging around the soft and fine substrate.
Earlier, I had a misconception that aquarium gravels are just like any other gravel we find on the road side. They are dirty and needs to be cleaned a lot before being placed in a tank.
But overtime, I learnt that the gravel we find on roads might be dirty but the ones underwater are as clean as they could be. There is no need to clean them especially with a cleaner.
Gravel comes in various shape, sizes and colours. If you need more information of different types of Gravels read our Aquarium Gravel Guide.
Aquarium gravels come in various sizes and shapes. You can select the best one according to the type of species you have kept.
Another point to be noted is whether the fish tank has live plants in it. If it has, and they are kept on the horizon, it will be the best to avoid common aquarium gravel and go for a quality and nutrient-rich plant substrate.
So you can just place them from underwater, into the tank or you can wipe it thoroughly with freshwater but do not use detergent or any cleaning agent.
Detergents leave toxic chemicals inside the tank which are unsuitable for marine life. So it is advised to not use them while cleaning inside the tank. However, they can be used to clean the outer surface.
Last update on 2021-12-13 / Affiliate links / Images from Amazon Product Advertising API
Plant Substrate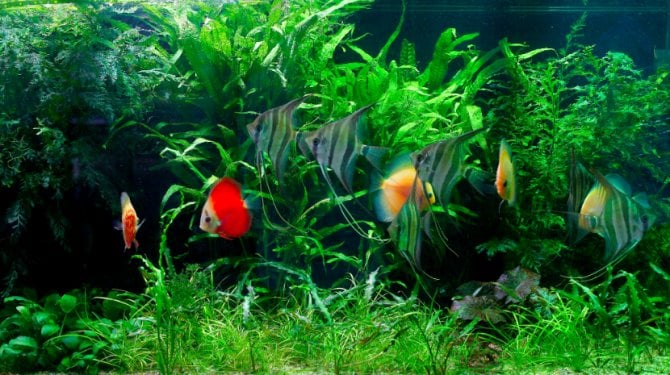 Plant substrate are a replacement to aquarium gravel. You can choose either of them. But to make that decision easier for you, here is an important point to be noted: Plant substrate is a great choice if your aquarium has live plants in it.
This is because plant substrate are rich in nutrient content which makes them great for the plants as well as other organisms. 
It is better to choose a nutrient-rich item for the fish tank in order to help rooted plants thrive in their aquatic environment.
Last update on 2021-12-13 / Affiliate links / Images from Amazon Product Advertising API
Decoration Items
Aquarium decoration items include plants, rocks, caves, tree logs, live plants and castle. All these things come together to mimic the natural habitat of marine life. Some of the fish like hiding behind these items, thus adapting their natural habitat inside a closet. Thus it helps in displaying more of their natural behavior.
Last update on 2021-12-13 / Affiliate links / Images from Amazon Product Advertising API
Besides, these items altogether, make the aquarium 100 times more beautiful. They make the fish tank eye-catching and soothing as they make it look so real. Such aquariums are great to look at and they also help in soothing the mind and soul of people.
Before putting any of these items inside the fish tank, make sure that they are made for aquarium use. This is so because some non-aquatic decoration items are known to leak chemicals. 
These chemicals possess a great risk to the lives of marine organisms. So keep in mind to purchase aquatic specific decoration items only.
We know that movement of fish is hypnotizing. So when they move about in the aquarium, it is a treat to the eyes. It looks great at first and eventually soothes your mind. It also makes the fish feel safer and happier.
So these are the 17 items needed to maintain a fish tank. Some of these items are basic requirements of aquariums. Which means that either the fish cannot survive without these items or the aquarium remains unhealthy without them.
The rest of the equipments mentioned are not basic and fish and tank can survive without them. But only the type of aquarium you have can decide whether you actually need the rest of secondary items or not.
This list will help you calculate how much it will cost you to take care of a fish. So I comprehend that by the end of it, you must have got a fair idea about whether you want a fish or not.
I have said it before, and I will say it again that fish keeping is not an easy task. You should do it only if you are hundred percent ready. I have seen many fish tank owners who had a bad experience with their first aquarium and they gave up almost before they even started. 
So do not get overconfident. Keeping these basic factors in knowledge and planning in advance, will help the potential aquarium owners avoid common pitfalls. Planning is of vital importance for the experienced owners as well.
Two of the most important and basic issues to consider while setting up a new aquarium are cost and size. 
In both these cases, people usually underestimate the rest of the important things and make compromises. This is the stupidest thing to do while purchasing an aquarium as it will clearly cause you problems later on.
You can make compromises with the price, but when it comes to quality, you should not do it. It will risk the life of fish. For help, you can make a thorough checklist or go to a pet store. 
Write down the cost of all the items that you are interested in to buy. Then take a second look at the list and determine the final cost, before you take a decision.
In case your budget is very tight, you can take help from your friends and family. What I mean to say is, you can ask them to give you different items from your checklist on your birthday or graduation day or on any other occasion. 
That way, you can get started without having to buy inferior equipment. It might also happen that they gift you what you want without even asking your or without even waiting for any special occasion.
So, you can try this trick! It helps most of the time. All the best for your new aquarium! I hope you ace at handling it.
 Content Toggle Headline
Test