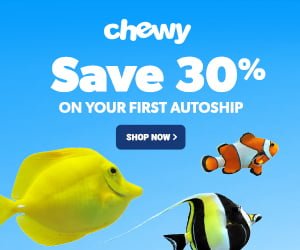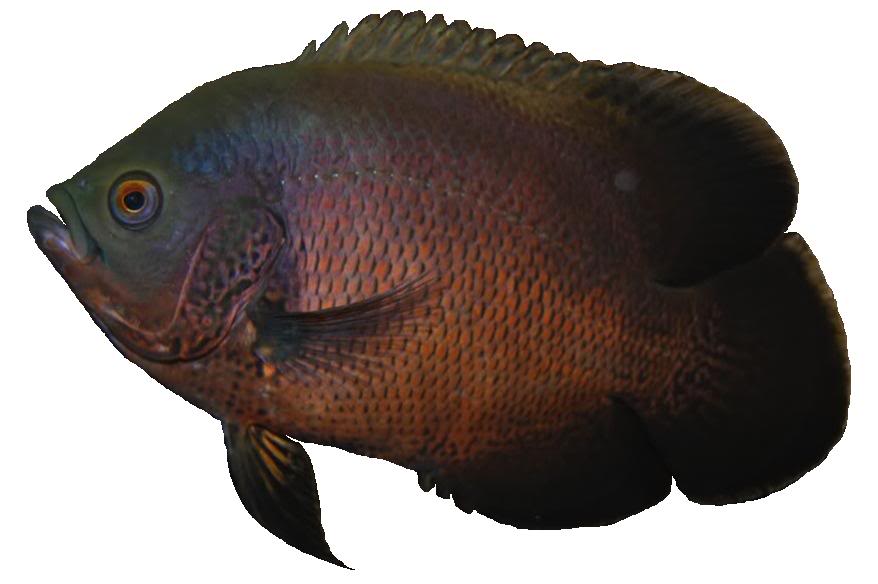 Overview
Oscar fish belongs to cichlid family and are known by scientific name Astronotus ocellatus.
They thrive best in their natural habitat which is located throughout Amazon River basin in South America. When you plan to cultivate them, you should be aware of all facts and information in advance.
What is an Oscar Fish
They belong to cichlid family and is well known by many common names like tiger Oscar, marble cichlid and velvet cichlid.
It resides in its natural wild habitat in South America and has also been introduced to many parts of the world like China, the United States and Australia. It is one of the famous aquarium fish in the U.S.
History
These species were originally discovered by Louis Agassiz as Lobotes ocellatus in 1831. It was a mistake as the species was marine and later on more work was done and finally the genus Astronotus name was assigned to the species.
This species has many numbers of synonyms such as Acara compressus, Astronotus ocellatus zebra, Acara hyposticta, and Astronotus orbiculatus.
Life span
The life span of Oscar fish are generally 10 – 13 years.
Oscar fish care
Taking care of them are of utmost important, if you are a fish lover. The aquarium should be filled with clean and warm water , for their longevity.
The temperature of water tank should be maintained between 23 to 27 degrees Celcius or 77 degrees Fafrenheit. A aquarium heater with temperature controller will ensure the stability in temperature inside the tank.
Best Oscar Aquarium Heaters
Sale
Bestseller No. 1
Tetra HT Submersible Aquarium Heater With Electronic Thermostat
All Tetra HT heaters have indicator lights to let you know when the heater is on. It will be red when heating and green when the proper temperature has been reached.
The HT10 uses a built in electronic theromstat to automatically maintain water at 78° F which is ideal for most tropical fish. No adjustment is requried.
Ideal for aquariums between 2 to 10 gallons with hoods or glass canopies
The HT heater is fully submersbile and can be installed vertically or horizontally. It's small footprint makes it easy to conceal behind plants or other décor.
Please read all label information upon delivery. DO NOT plug heater into an electrical outlet until it is placed inside the aquarium.
Sale
Bestseller No. 2
Aqueon Preset Aquarium Heater, 50W
Preset to 78°, accurate to +/- 1°
No adjustment required
Shatter resistant
Auto shut-off
LED light turns on when aquarium water is being heated
Bestseller No. 3
Tetra HT Submersible Aquarium Heater With Electronic Thermostat
All Tetra HT heaters have indicator lights to let you know when the heater is on. It will be red when heating and green when the proper temperature has been reached.
The HT20 uses a built in electronic theromstat to automatically maintain water at 78° F which is ideal for most tropical fish. No adjustment is requried.
Ideal for aquariums between 10 to 30 gallons with hoods or glass canopies
The HT heater is fully submersbile and can be installed vertically or horizontally. It's small footprint makes it easy to conceal behind plants or other décor.
Please read all label information upon delivery. DO NOT plug heater into an electrical outlet until it is placed inside the aquarium.
Last update on 2019-08-20 / Affiliate links / Images from Amazon Product Advertising API
The minimum tank size should be a tank that can hold at least 152 litres or 50 gallons of water see our Aquarium Tank Guide. It is necessary to have excessive filtration of the recycled water in the whole aquarium since they are messy species and requires regular maintenance of its environment.
The overstayed water become Toxic water and affects health of fish badly. A filter system at the inlet or water cycle are the best solution to keep them healthy.
Read our Exclusive Guide about Oscar Tanks
Best Oscar Filter System
Bestseller No. 1
Marineland Penguin Power Filter, 50 to 70-Gallon, 350 GPH
Certified flow rate of 350GPH, perfect for all aquariums up to 70-gallon, uses two Rite-Size C filter cartridges
Delivers easy, three stage mechanical, chemical, and biological aquarium filtration
Convenient Penguin Rite Size Cartridges come ready to use with each filter; Three-stage BIO-Wheel filters for freshwater and saltwater aquariums
Please refer the Product Manual, Set up Manual and the Instructional Video before use
Sale
Bestseller No. 2
Aqueon QuietFlow Filter Cartridge, X-Small, 3-Pack
Fits Aqueon QuietFlow Filter: E Internal 3 gallon
Ready-to-use cartridge contains high quality activated carbon that keeps water clean, rinse before replacing
Installs in seconds: align cartridge bottom key slot for an accurate fit inside the Filter
For optimal performance, change approximately every 4 to 6 weeks
Do not clean Bioholster when replacing the cartridge as it contains beneficial biological bacteria
Sale
Bestseller No. 3
Last update on 2019-08-20 / Affiliate links / Images from Amazon Product Advertising API
Difference between male and female Oscar fish
Color differences can't differentiate males from female. It is the shape of genital papillae that clearly differentiates male from female.
When Oscars are large enough to be between 4 and 5 inches in length, you can examine them by observing genital papillae. In case of males, this forms into a fine point and is blunt and wide-mouthed in case of females.
Colors
In the wild natural habitat, Oscars have dark-colored bodies with yellow colored ringed spots known as ocelli and are located on caudal peduncle and dorsal fin.
They can change their colors, this unique feature protects them being from being eaten while they feed in their territory. Juveniles of this species show many different colors as compared to adults like they have strips of orange and white bands.
Teeth
Oscars do have teeth that are placed at back in the mouths. Their teeth are not as sharp as a razor but are shocking enough to get chomped by. They have teeth not only in jaws, but they also do have set of pharyngeal teeth in the throat as well.
Oscar jaw teeth are very small and are only used for grasping whereas teeth in the throat processes and manipulates prey. If you consider type and arrangement of teeth then pharyngeal
teeth in the throat are arranged in such a way that they are considered as one of important character of Oscar fish helpful in systematic process in deciphering evolution of cichlids and significant study has already been published.
Size
Biggest Oscar fish: Approximately 18 inches in size, Oscar is the world's biggest fish ever recorded.
Oscar growth rate: An Oscar grows between 8 to 10 inches in a year, growing pretty fast if you get them a large tank to provide enough space.
Giant/Huge Oscar fish: A giant Oscar fish is generally between 17 to 18 inches in size.
Largest Oscar fish are found to be between 20 to 22 inches in size.
Full grown Oscar fish: Oscars grow up to 18 inches in length and weigh approximately more than three pounds when at maturity. If kept in captivity, Oscar fish grows up to 12 inches in length but larger specimens of Oscars have already been reported.
Measuring Oscars: Measure your Oscar fish with the help of string or a ruler, putting it up to the glass of water tank and don't take fish out of the tank to measure.
Dwarf Oscars are stunted Oscars, but they are extremely rare
Short Bodied Oscar: Oscar fish are selectively bred to have shorter, compact body and are known as short bodied Oscars.
Breeding and Mating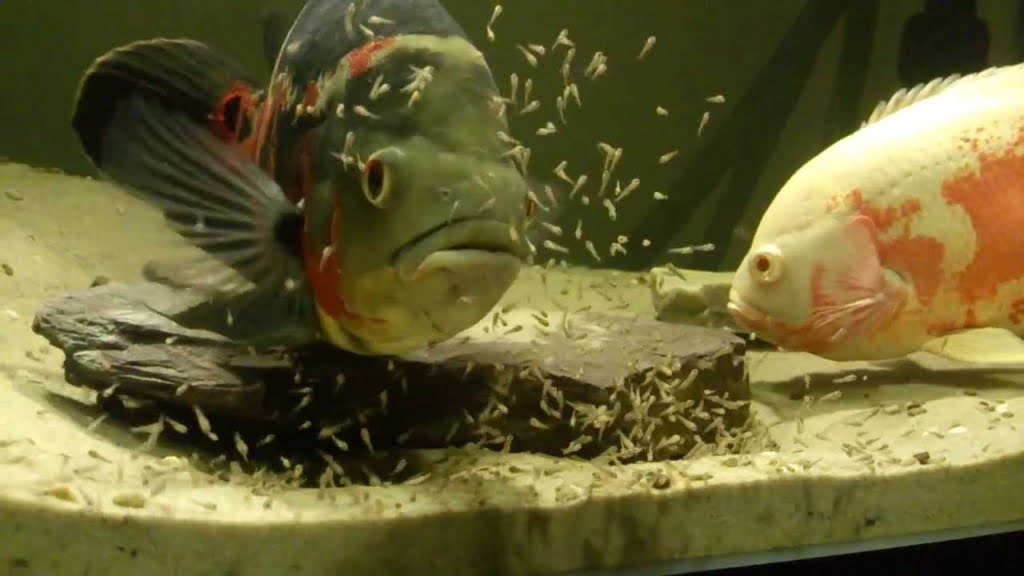 Do Oscars lay eggs
Oscar lays eggs, but most of them eats away first egg and second too. Female gives birth to eggs after 2 to 3 days of the mating process in batches of 100 eggs and in total, lays 1000 eggs within a period of a few days.
In the natural habitat, Oscar eggs often have a low success rate and only a few eggs mature into young adults but if cultivated in captivity like tank or aquarium , they have high conversion rates.
This point can be taken as a base while selecting rearing water tanks for your fish. After eggs are laid, within 72 hours Oscar fry hatch. If Oscar pair becomes upset, is in stress or feeling unsafe,
they consume their eggs. Fertilized Oscar eggs will be light brown in color as compared to white colored unfertilized eggs. As Oscar fry are hatched, you should move them to a different tank to eliminate the risk of being consumed by parents.
Moving them to different rearing tank will raise their survival rate and they will start to grow and will require more and more space as they grow into a large Oscar fish. Female Oscar lay a large number of eggs ranging from 1000 to 2000 eggs on clean rocks.
Best Oscar Rearing Tank
Sale
Bestseller No. 1
Marina Hang-On Breeding Box, Large
Safe & secure tank for breeding, isolating or acclimating fish
Multi-purpose use
Space saving design
Hangs on the outside of the aquarium
0.5 gallons
Bestseller No. 2
PETS ISLAND Aquarium Fishes Breeding Boxes Double Guppies Hatching Incubator Isolation Box (7.7 in)
Unique floating and transparent plastic cover designed to prevent the fish out of the isolation room to protect the newborn fish. It is ideal to be sick fish in fish and isolation space With sucker, anywhere convenient fixed in the tank
It is a Hatchery for viviparous fish, such as bettas, guppies, medaka, ect. It can Prevent attack from adult fish, improve the survival rate of juvenile fish
It can Separate aggressive fish, injured fish, small fish, shrimp, and other sea clownfish
Self-floating design with suction cup, 2-layer combination does not occupy space
Make sure you put all the pregnant fishes into the incubator! Many people are easy miss some pregnant fishes. In fact, the ventilating hole of the incubator is not visible by the naked eye, and the small fish cannot run out.
Bestseller No. 3
Capetsma Fish Breeding Box, Acrylic Fish Isolation Box with Suction Cups, Aquarium Acclimation Hatchery Incubator for Baby Fishes Shrimp Clownfish and Guppy. Small Size (M)
🏠🏠🏠 Safe and Upgraded Design: Made of High quality cell cast crystal acrylic, Exquisite workmanship, Inner Size for fish to swim : 6.1" x 3.5" x 3.7" ( L x W x H ), Safe and secure for breeding, isolating or acclimating fish, favorable vents allow optimum water flow and easy to observe your baby fish.
🏠🏠🏠 Must-have for pregnant fishes: This fish breeder is a Hatchery for viviparous fish, such as bettas, guppies, medaka, ect, can protect new born fry from being eaten, improve the survival rate of juvenile fish.
🏠🏠🏠 Multi-functional: This breeder box for fish tank comes with self-contained isolation plate, can reduce danger from aggressive fishes, protect injured fish, small fish, shrimp, and other sea clownfish
🏠🏠🏠 Space-saving & Self-floating: This fish isolation box can be secured to the aquarium wall with the suction cups. 2-layer combination does not occupy space.the grating in the bottom prevents soiling of the box by food residues and excrement.
🏠🏠🏠 Easy Operation: 3 mins assembly / disassemble for cleaning. (First time may take about 10 mins to remove protection layers from acrylic). Removable divider customize size and number of chambers for different needs
Last update on 2019-08-20 / Affiliate links / Images from Amazon Product Advertising API
Sexing Oscars
It is impossible to tell the difference in sex in case of the Oscars. Both male and female types look alike and show no difference in length or size but you can differentiate them by looking at the shape of genital papillae located somewhat around their anal opening which is blunt and wide-mouthed in females.
Mating
Mating starts with a pair of fish involved in activities like nipping, chasing each other, picking up sand in mouths and relocating it somewhere else in the tank. Once they decide to mate, they prepare an area to lay their eggs on.
Oscars male and female pairs that are chosen for mating process should be minimum two years of age. It is an easy way to mate if you buy a pair of Oscar's that are spawned and mated already at least once.
These already spawned fishes spawn naturally each month. When you buy, do not forget to ask for spawning proof. In case you do not buy this pair, next option you can choose is to buy some juveniles,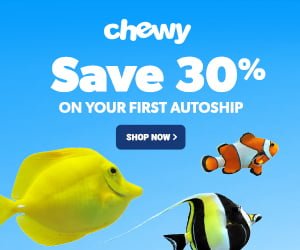 grow them into adults and wait till they pick up their partners naturally for mating. Choosing this option will cost you enough time in breeding process which can be 16 months and varies from fish to fish.
Breeding signs
Pair of Oscars seen cleaning a flat surface expresses early breeding behavior. At the time of breeding, courtship behavior can also be violent.
Oscar tank mates
Although Oscars can live on their own all alone and do not have any need of tank mates but some of the compatible partners are Black Convicts, Firemouth, Jack Dempsey, Chocolate Cichilds. Know More
How to get Oscars to breed
Purchase a pair that have already been bred in past and pair them off in your aquarium for successful breeding. Interbreeding different types of Oscars like Albino, Tigers, Reds, Whites, Yellows allows you to have more Oscars with most distinct and unusual colors.
You are able to interbreed Oscar types to come out with the most unusual colors. Large space should be provided to Oscar pairs while breeding, a breeding tank of 100 gallons is preferred. Breeding them is like a challenge which can be met if you are dedicated towards it.
Mating habits
Oscar pair shows mating habits such as change in swimming habits, slapping tails, chasing and lip lock mouths. In worst cases, they sometimes attack each other.
Oscars should be given varied diet, tank water should be changed twice a week to keep it clean to induce spawning behavior. When spawning behavior is seen in Oscars, there comes a need to provide the pair with a spawning medium which can be an upturned dinner plate. Ceramic surface is also suitable to lay eggs.
Food, Diet And Feeding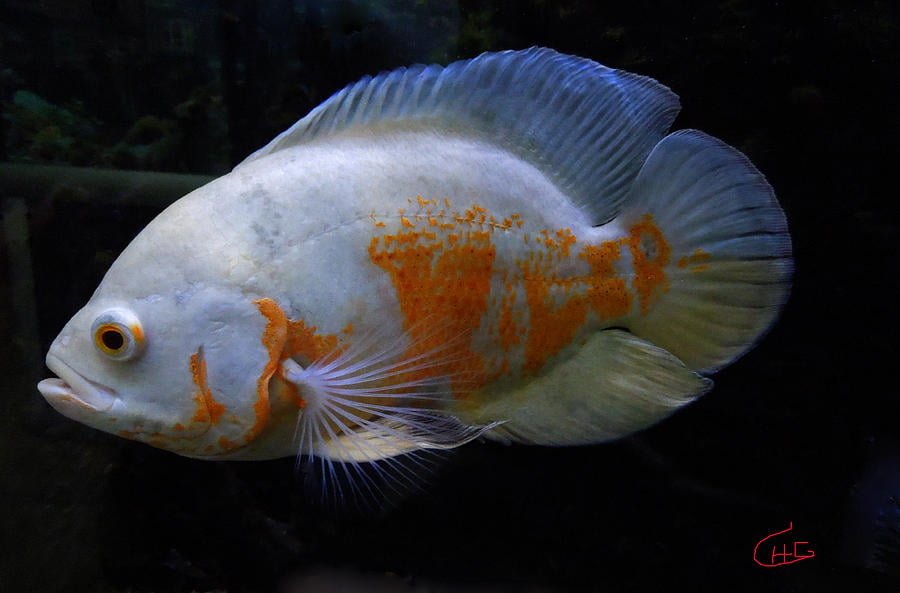 Oscar is carnivorous in nature but does not eat meat as its prime choice in food. A major portion of their diet is fruit falling into water in the natural environment. So, they should be provided with a high quality protein diet.
What do Oscar fish eat:
Oscar can eat almost everything that falls into the water tank. Oscars mainly eat freshwater insects and crustaceans. They do not eat fish which means that they are not piscivores.
Even if they do eat fish, it contributes to a minor portion of what they eat and primary fish food of Oscars are catfish in their natural environment. So, you should remember this while choosing tank mates for your fish and should never put catfish in the water tank as mates for your Oscar fish.
Diet
A proper diet increases life expectancy and strengthens their immune system. They should be fed with prepared fish food such as crayfish, insects and worms.
In diet, the Oscars have high requirement of Vitamin C. So, they like to eat fresh fruits to meet their vitamin C requirement. Oscar's diet also contains algae and plants and they never seek for algae or green plants and feed them only because these are the main contents of their prime prey.
Oscar's diet mainly consists of dried foods which is a problem for fish as they contribute to blockage, bloat and constipation resulting in the death of fish.
Dry foods containing probiotics are a solution to this problem as they minimize risks of constipation, blockage and bloat in fish, but still supplement foods with high level moisture content should be chosen as the best option. Different fresh fruits and vegetables can also be provided to Oscar as another supplement food.
Feeding
Feeding live foods increases growth rate,the but also causes disease like endoparasites. Do not feed your fish mammalian flesh as they cause fatty liver disease. Also, Avoid feeding it with small live fish like the goldfish.
Instead, feed them with insects or processed food. Green peas are used to cure Oscars having constipation whereas if you are giving fruits and vegetables to your fish, you should ensure that all seeds are removed from them prior to feeding to eliminate risk of blockage.
These foods also deteriorate water. So, you should also ensure that your fish eats them away as soon as they are fed or are removed from the water tank. As they primarily feed on dry foods.
Therefore, they should be given quality pellet with good quality plant and algae in their diet containing significant amount of nutrition, proteins and vitamins necessary for your fish. Flakes are not acceptable for Oscars.
It should never be the primary food for your fish as they are inferior than pellet food when it comes to nutrition. Also, they are large and Oscars finds it very difficult to eat. So, while you are feeding your fish, you should feed them with best quality pellet.
Best Oscar Pellets
Bestseller No. 1
Omega One Super Color Cichlid Small Pellets 16.25oz
Complete food for all cichlids
Made with whole fresh Seafood from sustainable fisheries
Naturally occurring pigments for vibrant colors
Rich in OMEGA 3 & 6 for strong immune systems
Less starch; less waste. Low ash for cleaner water
Sale
Bestseller No. 2
Sale
Bestseller No. 3
Bestseller No. 4
Bestseller No. 5
Last update on 2019-08-20 / Affiliate links / Images from Amazon Product Advertising API

"Remember: You will be required to clean its environment more often if the fish is over-fed or fed more than once a day."
Diseases
They are affected by five general diseases which are hole in the head, ich, popeye disease, fin and tail rot, and bloat. Common diseases are Ick, Fin & Tail Rot, Dropsy.
Overcrowding and bad water quality causes these diseases. These are most vulnerable to head and lateral line erosion also known as hole in the head disease.
This disease mainly affects the head and face, and when you see, they look like cavities and pits over head and face. It is caused due to nutritional deficiency of: Vitamin D, Vitamin C, and elements like calcium or phosphorus,
which is due to intake of insufficient and poor diet that lacks in variety and is also a result of partial water changes or over-chemical filtration with activated oxygen as chemical medium.
You need to monitor them periodically and diligently for injuries or diseases at regular intervals of time. While cultivating this fish, you should have full information about a variety of infections like parasitic infections, fungal infections and bacterial infections.
You are also advised to have more knowledge about water tank diseases and knowing the symptoms, treatment of all types of diseases which help you in cultivating happy and healthy fish. Take precautions as prevention is better than cure.
Behavior
Oscars capture and claim areas of aquarium and will show aggression if other fish encroach their established territory. They like to live alone in their defined territory and do not like to live in community.
Generally, they are not aggressive and belligerent by behavior and never show aggression towards other tank mates but they are considered as predators who will eat their tank mates.
Still, it is not difficult to cultivate Oscars with other tank mates provided they have large fish as their tank mates in a large spaced aquarium of about 200 gallons.
Oscars know their owner very well and are one of the amicable fish swimming around in water tank getting bonded with their owners. For example, they love to watch day to day happenings in and around the room and also react to the sounds of their owner known for their begging for food and for performing rolling ticks.
Oscars also love playing with toys and while playing, they love to dig up plants, place tank decorative things from one place to another. They have aggressive temperament and they are a threat to peaceful fish who are slow swimmers and slow eaters. They also prove to be threat for shrimps, snails and crabs.
Fish Names
Selecting a name for your fish is one of the important part of fish care. It helps you to distinguish your fish so you can easily take care of your special or loved one fish. You can refer a complete list of fish names.
Tank & Bowl
It can be quite sad, waking up to find sick or otherwise dead fish in the aquarium. They need very special care and attention. Look at our Tank Accessories Guide for more information.
Best Oscar Large Canister Filter
Bestseller No. 1
Cascade CCF4UL Canister Filter For Large Aquariums and Fish Tanks - Up To 150 Gallons, Filters 315 GPH
CASCADE CANISTER FILTER FOR FRESHWATER OR MARINE ENVIRONMENTS: the Cascade 1200 (CCF4UL) has 4 media baskets, works at 315 GPH, and is recommended for Aquariums up to 150 gallons. It measures 11.5 x 20.5 x 11 inches
STATE OF THE ART FEATURES OF THE CASCADE 1200: flow valves that rotate 360 degrees for easy maneuvering in even the tightest aquarium cabinets large capacity media baskets allow aquarists to customize to their media needs push button primer allows for a quick and easy prime of the filter includes a spray bar, tubing, directional spout for customization, and filter medium
USE ANY COMBINATION OF MEDIA: floss pad for removing particulate matter and a course sponge that provides abundant surface for promoting bacterial growth (to remove ammonia and nitrites) included free with purchase
FILTER MEDIA OPTIONS BY CASCADE AVAILABLE ON AMAZON, SOLD SEPARATELY: see below for details, sold separately is media such as: bio-floss, bio-sponge, bio-rings, filt-a-pack pro-z, and filt-a-pack pro-carb-z
SEE BELOW FOR DIAGRAM, THE CASCADE 1200 INCLUDES: Flow rate control cut-off valves two independent directional 360 degree rotating valve taps swimming pool - style hose clamps quick, easy, push button self-primer extra-large capacity stackable filter medium containers with lift-up handles floss pad and coarse sponge included, free with each canister filter easy lift alignment clamps that release vacuum suction sturdy tip-proof base
Sale
Bestseller No. 2
Fluval Canister Filter, FX6 Filter (400 Gal)
Multi-Stage Filter that produces healthy aquarium water, freshwater or marine aquariums
Features Smart Pump Technology for optimal filter performance, efficiency and management
Self-starting filter-just add water and plug in. Head height (maximum): 3.3 m (10.8 feet)
For aquariums up to 400 gallons
Sale
Bestseller No. 3
MarineLand Magniflow Canister Filter for Aquariums, Easy Maintenance
Canister lids ensures water tight seal. Easier to remove top to access media baskets
The polishing filter pad acts as a water polisher removing fine debris
The bio-filter balls and ceramic rings provide a large, multifaceted surface area for the growth of bio spires
Black Diamond Carbon Removes odors, discoloration and water impurities
Filter Foam pads screen out dirt and debris. Spill-free setup
Bestseller No. 4
Polar Aurora 4-Stage External Canister Filter 525GPH with 9-watt UV Sterilizer New(525GPH)
Good for up to 200 gallon fish tanks.Maximum flow rate of 525GPH from built in pump
4 media trays capable of handling your choice of filtration media; Comes with an adjustable spray bar. This is a helpful feature if you want to adjust the output flow from the filter
Convenient self-priming pump that eliminates the need for manual siphoning; Single valve disconnect & priming pump ease routine maintenance
Built in 9 Watt UV sterilizer for controlling algae spores/bacteria and promoting clear water
The four flexible media trays allow you to add other filtration media such as SunSun's activated carbons, ceramic rings or bio-balls to achieve excellent mechanical, chemical, and biological filtration.
Bestseller No. 5
Eureka NEN110A Whirlwind Bagless Canister Vacuum Cleaner, Lightweight Corded Vacuum for Carpets and Hard Floors, Blue
Innovative Multi-Surface vacuum: Deep clean with the whirlwind canister vacuum. This vacuum features an integrated airflow control on the handle that can be easily switched at your fingertips. It includes three settings: carpet, upholstery & hard floors
Lightweight and easy to maneuver: vacuum anywhere around your home with ease with this lightweight vacuum. The Eureka whirlwind vacuum cleaner weighs less than 8 pounds and can easily maneuver under and around furniture and stairs thanks to its swivel steering and telescoping metal Wand
3L dust container, no maintenance costs: No bags or filters required. The whirlwind has a Bagless design and uses washable filters. Rinse the filters as needed and you're ready to go
2-In-1 integrated crevice tool: The Eureka whirlwind canister vacuum features a crevice tool integrated into the hose handle so it's at your fingertips whenever you need and will never get lost. Easily disconnect the handle from the hose and then you can switch between a crevice tool and a dusting brush
Easy-to-use: spend more time cleaning and less time struggling with your vacuum cleaner. The Eureka whirlwind has automatic cord Rewind, saving your valuable time. The whirlwind has a one-button release for easy dust cup emptying
Last update on 2019-08-20 / Affiliate links / Images from Amazon Product Advertising API
Oscar Fish for Sale
Price
Prices vary depending on different sizes and varieties. The most common, popular and young are priced low and are cheap.
Also, the price depends on the growth rate of your fish as high growth rate will need a tank that have large space such that they can fit into it as they grow and mature into a large sized fish.
The cost is generally between 5 to 15 dollars for young, small Oscars with a large spaced tank will cost somewhat around 100 to 300 dollars. Also, it will be good if you do some research before you buy your fish as price varies and depends on various parameters.
Buy Oscar fish online
These breeds are available online in fish stores in varied varieties and coloration. There are many online websites available to shop and buy your favorite Oscars as per your desires and specifications on reasonable rates.
You can also get all supplements online needed to cultivate your fish and to ensure that your fish grows into a happy, healthy, mature fish with no stress and fear.