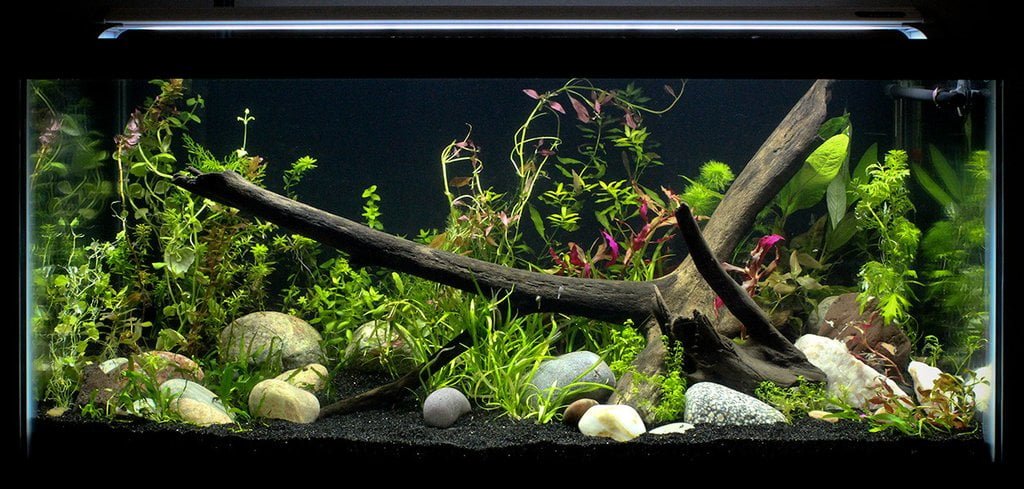 If it is the first time that you buy tetra fish, then you should start your journey with a small number of fish which requires easy caring ways . Setting up tanks and aquarium needs experience.
So, for beginners, it is best to start their journey with only one inexpensive fish known as test fish. Providing your test fish with perfect living conditions and analyzing their reaction towards them will teach you everything about tetra fish tanks and aquariums.
Setting up a tetra fish tank/aquariums
Setting up a tetra fish tank and aquariums include various tasks that needs to be completed in order to maintain overall health of fishes. It includes:
Aquarium Materials such as gravel, decorations and stones should be washed periodically with colander. Avoid using soap or detergent to wash these materials as they are toxic to fish.
Add Water: one third of aquarium should be filled up with room temperature water, adding tetra aqua safe to de-chlorinate water.
Decoration and Plants: rocks, live or plastic plants and ornaments should be very well arranged in an aquarium. Adding live plants involves taking extra care such as they should be planted at specific water temperature and should be moist till the time they are planted.
Balance of Water: Fill up the aquarium to the top leaving some space between water level and the cover.
Filter, Heater and Thermometer: when using outside filters, you should fill them with filter cartridge. Heater should be secured as per directions and thermometer should be placed far away from heater as possible.
Starting Your Aquarium Equipment: start your aquarium and switch on power filter, heater and air pump and make sure that your power is working properly and heater is adjusted to give perfect temperature.
Add Fish to the Aquarium starting with floating fish in plastic bags for 15 minutes in your aquarium which allows temperature in plastic bag to become in equilibrium with temperature in aquarium. Add tetra safestart and place fish into aquarium.
Cover the Aquarium with hood and turn on the lights.
First Feeding and Control: feeding should be done after tetra fishes have adapted to their environment.
Tank Size
Beginners should start with providing their tetra fish, large aquarium of about 20 gallon to provide them with enough space to grow and thrive. Large volume of water ensures easy maintenance of balance of environment.
Sale
Tetra Aquarium 20 Gallon Fish Tank Kit, Includes LED Lighting and Decor
Tetra Glass Aquariums are made in the USA and are built to last with scratch resistant glass
The Tetra Aquarium comes loaded with an LED hood, that provides a natural daytime effect and a Whisper Filter that is whisper quiet while providing powerful, dependable water flow
Artificial Plants add a unique, natural ocean feel while giving your fish a place to hide which reduces fish stress
The Tetra Kit includes: one 20 Gallon Glass Aquarium, one LED hood, one Tetra Mini UL Heater, one Tetra Whisper 20 Filter, one artificial Boxwood Plant Mat, four artificial plants. Add gravel and fish to complete your aquarium
Aquarium Dimensions: 24.2" L x 12.4" W x 16.7" H
Last update on 2019-10-19 / Affiliate links / Images from Amazon Product Advertising API
An aquarium with small size will show frequent variations in water quality and parameters like temperature and pH level which can be harmful for your tetra fish.
Tetra Tank Mates
Tetra fish are known to exist in variety of colors like red, blue and black . Mix of different types of tetra fish in a community tank is a must watch behavior of tetra fish. Their behavior may be described as follows:
Schooling fish: tetra fish prefer small groups of single same species. You should ensure that you have a school of six small fishes together.
Adding other species of tetra in community tank also works well.
Friendly: tetras are observed to be friendly with fishes of different species that are similar in size and activity.
Safestart
Tetra SafeStart helps to start aquarium from the beginning by adding good bacteria required to break fish waste and start filtration and eliminates need to wait for many weeks for tank to cycle.
Filters
Filtration is a important part of keeping fish. An aquarium filter works by keeping water conditions clean and healthy and also maintains aquarium by processing solid, biological and dissolved waste.
Solid waste is removed by mechanical filtration, dissolved waste by chemical filtration and biological waste is removed by biological filtration.
Wisper Filter PF10
Tetra Whisper PF10 power filtration removes waste mechanically, biologically and chemically. Hence, it is a type of three in one filter.
Mechanical Filter removes solid waste.
Chemical Filterremoves dissolved waste.
Biological Filterremoves biological waste.
Tetra Whisper PF10 Power Filter, Quiet Three-Stage Filter
5-10 GALLON AQUARIUMS: Designed for use in smaller aquariums up to 10 gallons.
USES MEDIUM CARTRIDGES: The Tetra Whisper PF10 uses medium Whisper Bio-Bag cartridges. Replace cartridges to keep your filter functioning properly.
THREE-STAGE FILTRATION: Keep cleaner water and healthier fish with three-stage filtration.
Last update on 2019-10-19 / Affiliate links / Images from Amazon Product Advertising API
Tetra FS3060
The Tetra FS3060 is a perfect filtration system for 30 to 60 gallon tank. It is multi-stage filtration system that provides you with continuous flushing action maximizing oxygenation and water agitation.
Submersible Aquarium Heaters
Measuring water temperature periodically is very important and its failure may result in death of your tetra fish. Hence, Submersible Aquarium Heaters are used which are technologically advanced in monitoring water temperatures. It gives real time and accurate temperature readings.

SaleBestseller No. 1
Orlushy Submersible Aquarium Heater 300W-Fish Tahk Heater with Adjust Knob Thermostat 2 Suction Cups Suitable for Marine Reef Fish Tank Sump
300W aquarium heater is suitable for 50 to 80 gallons aquariums,Length - 11 inch,voltage 110-120V, power cord is 6ft, please choose the right wattage aquarium heater according to our size chart.
It shows an area to adjust the temperature. It's not exactly accurate but it turns easy and can be adjusted at small intervals.
Explosion Proof: 2mm thickened quartz glass,can be used in fresh water and salt water aquariums,easy to hide in the tank.
Precise temperature dial from 68 to 89°F allows for complete control of aquatic climate within a 1-degree difference.
Adjustable Aquarium Fish Tank Water Heater Sensitive and reliable thermostat maintains uniform temperature. Automatic shut off when the temperature is reached
SaleBestseller No. 2
Tetra HT Submersible Aquarium Heater With Electronic Thermostat
All Tetra HT heaters have indicator lights to let you know when the heater is on. It will be red when heating and green when the proper temperature has been reached.
The HT10 uses a built in electronic theromstat to automatically maintain water at 78° F which is ideal for most tropical fish. No adjustment is requried.
Ideal for aquariums between 2 to 10 gallons with hoods or glass canopies
The HT heater is fully submersbile and can be installed vertically or horizontally. It's small footprint makes it easy to conceal behind plants or other décor.
Please read all label information upon delivery. DO NOT plug heater into an electrical outlet until it is placed inside the aquarium.
SaleBestseller No. 3
Aqueon Glass Submersible Adjustable Heaters
Precise temperature setting to 1-degree F (68-88 degrees F)
Recommended for aquariums up to 40-Gallons
Shatter-resistant construction, fully submersible
LED light turns on when aquarium water is being heated; Automatic safety shut off and overheat protection
Lifetime Limited Warranty
SaleBestseller No. 4
EHEIM Jager Aquarium Thermostat Heater 300W
Fully submersible
Thermo safey control protects against running dry
Will automatically turn off when water level dips too low
TruTemp dial recalibrates the heater for precise temperature regulation
Made of shock resistant and shatter proof glass for fresh or marine water
SaleBestseller No. 5
Hygger Submersible Aquarium Heater, Adjustable Fish Tank Heater Compact Reliable Betta Heater, Heat-Resistant Milky Quartz Made, with External Temp Controller, 50W/100W/300W, 7-60 Gallon (300W)
🐠【For Fish Tank 30-60 gallon】300W aquarium heater, voltage 110-120V, power cord is 5.4ft, please choose the right wattage aquarium heater according to our size chart. Don't suggest use this heater in sump or a tank with turtles in
🐠【Reliable & Safty Protection】automatically shut off when fault occurs. Effectively maintain the tank water in the constant temp you set, stop heating when the water temp is 1.5-2℉ above the set temp and restart heating when the water temp is 1.5-2℉ below the set temp
🐠【Temp adjustable】with external temp controller, set the temp to one of these values you can see on the dial: 75, 77, 79, 81, 83, 85, 87, 89, 91 by rotating the pointer, the heater will not work if you set the temp to other degrees between those values. Temp exactness is within 2 degrees in fahrenheit. There is a built-in thermometer in the heater to detect the water temp
🐠【Durable & Compact】this aquarium heater tube is heat-resistant milky quartz made, excellent in explosion-proof, can be used in fresh water and salt water aquariums, white alundum sand as the heat-conducting media, service life can be 3 years or more. A very compact heater, easy to hide in the tank
🐠【Fully Submersible】this fish tank heater is waterproof, must be fully submerged in water when working, stick it horizontally onto the tank side near the water intake or where the way of water flow
Last update on 2019-10-19 / Affiliate links / Images from Amazon Product Advertising API
Biotope
A biotope is an aquarium set up to simulate natural habitat. In biotype aquarium, every type of environment condition is similar to natural habitat.
Parasite guard
Parasite guard includes tablets for the the treatment of fish parasites. These tablets dissolve very fast and is considered as a fast remedy for variety of internal and external fish parasites.

Tetra parasite guard eliminates need for measuring or scooping powder or liquid medicine. This guard removes external and internal parasites such as flukes, lice, anchor worm,

internal worms and flagellates like hexemita or spironucleus linked and related to hole-in-the-head disease. Parasite guard also protects tropical aquarium fish from secondary infections. It works efficiently without any need of raising water temperature.
Algae control
Algae control provides solution to control algae in ornamental ponds full of plants and tetra fish. It is very efficient and is used to combat algae blooms, hair algae, string algae and weed in tanks with synthetic liners. Its well concentrated formula is used for the treatment of large amount of water.
Fungus and Ick guard
Ick Guard is a conditioner that is used to quickly clear ick and white spot on freshwater aquarium fish. Ick is the result of changes in aquarium water temperature.

Ick guard also have special and specific ingredients to protect tetra fish from secondary infections. Aquarium fish fungus treatment is done with the help of fungus guard that treats conditions related to a variety of fungus and bacteria on tropical tetra fish.

It is also used for the treatment of fungus, tail, hemorrhagic septicemia, fin or mouth rot, clamped fins and dropsy.