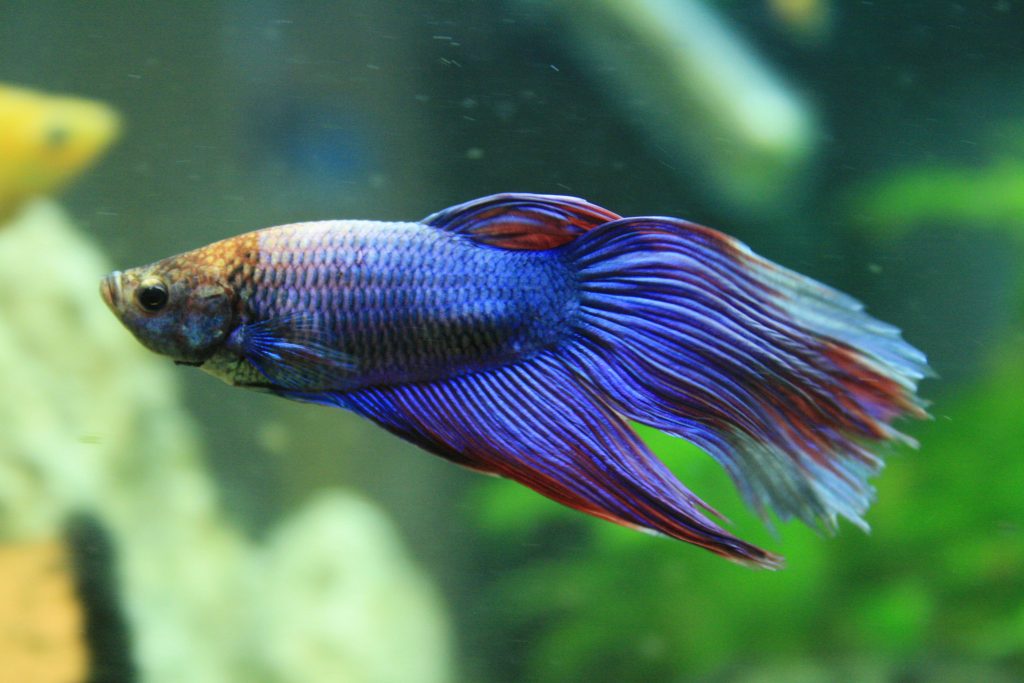 Betta fish is a very beautiful one to make your fish tank brightly colored and exquisite in looks, but it comes with some small yet necessary points to be remembered and always kept in regulation. Thus, here is a Betta fish complete care guide you should go through.
General
Betta fish is originally called Siamese fighting fish and is the most celebrated of the Gourami family.
Betta's name comes from the ancient clan of warriors called " The Bettah".
Betta is a tropical fish with origin traced back to rice paddy fields and standing flood plains.
Betta has a life span of up to 6 years if kept properly.
Behavior
Betta is a combatant fish and is as aggressive as its vibrant colors.
Male Bettas never get along with each other and often fight off to death.
Female are less aggressive than male Betta fishes and can be kept together preferably for the breeding purpose.
Female Betta fish can be placed in a group of minimum 5 in a tank of at least 12-15 gallons of water.
Betta belongs to the labyrinth family of fishes and thus breathes through direct oxygen at times. They might jump out off the tank at times too.
Betta fish tank mates are very few and usually dull and smaller in size than Betta.
Housing
Betta fishes are best kept alone as they do not gel up well with any other fishes.
The optimum tank size for housing a Betta is 2 gallons or 10 litres minimum.
The Betta fish tanks choices are vast which include: Round bowls, bow front tanks, tanks with dividers, Zen looking tanks, advanced "bio" tanks.
Betta comes from a tropical region and thus requires a moderately warm temperature and get uncomfortable in the cooler temperatures than 75 degree Fahrenheit.
Decorations are not required in a Betta tank neither are they appreciated by the fish. But, dark caves and corners are preferred resting spots.
Betta likes to stay in one place and usually do not swim all around but are territorial in tendency.
Filters can be of lesser power when housing a Betta as their origin is from mostly standing waters thus, do not like high streams. The flow of the filter pump should be minimised.
Betta is very sensitive to atmosphere change and get sick with slightest variations. Keeping a regular check on the conditions and functioning of the tank is necessary.
Maintenance of Tank
Sale
Bestseller No. 1
Tetra Bubbling LED aquarium Kit 1 Gallon, Hexagon Shape, With Color-Changing Light Disc (29040-00)
aquarium KIT Hexagon-shaped aquarium kit is perfect for betta fish
COLORFUL Bubbling disc automatically cycles through a rainbow of LED light colors
INCLUDES FILTER Includes air pump-driven Tetra Whisper Internal Power Filter to keep your tank clean and provide a healthy environment for pet fish
AIR PUMP Drives both the bubbling disc and the filter
CONVENIENT Clear canopy has a hole for easy feeding
Sale
Bestseller No. 2
Tetra LED Half Moon aquarium Kit 1.1 Gallons, Ideal For Bettas, Black, 4.6 x 9.1 x 9.9 Inches (29049)
aquarium KIT Clear plastic half moon-shaped front allows unobstructed viewing
MOVABLE LIGHT LED light can be positioned to light tank from above or below – requires 3 AA batteries (not included)
IDEAL FOR BETTAS Bettas have large heavy fins that weigh them down so they do not need a lot of space bettas require minimal maintenance and make a great species for beginners
CONVENIENT Clear canopy has a hole to make feeding fish easy
Age Range Description: All Life Stages
Sale
Bestseller No. 3
Marineland Portrait Glass LED aquarium Kit, 5 Gallons, Hidden Filtration
SLEEK DESIGN: Rounded corners and clear glass canopy allow viewing from multiple angles.
DAYLIGHT/MOONLIGHT LIGHTING: Bright white LEDs create a shimmering sunlight effect; blue LEDs produce a moonlit glow.
EASY ACCESS: Hinged LED lighting and sliding glass canopy.
SIZE: 5-gallon aquarium fits Marineland Rite-Size Z Filter Cartridges.
HIDDEN FILTRATION: Advanced, 3-stage filtration is out of sight, enhancing aquarium viewing.
Sale
Bestseller No. 4
Aqueon LED Minibow Aquarium Starter Kits with LED Lighting, 1 Gallon, Black
Compact fish tank with a contemporary design and elevated base
Simple to setup and maintain, looks great in any room
Sleek, low profile LED energy efficient light hood with feeding hole
Includes Aqueon QuietFlow filtration as well as food and water care samples
Ships in its own container for protection against scratches and breakage during shipping
Bestseller No. 5
Tetra Waterfall Globe Kit 1.8 Gallons, Aquarium With Filtration
DESKTOP AQUARIUM KIT: 1.8 gallon tank is ideal for betta or goldfish, or small tropical fish like guppies and tetras (with the addition of the Tetra HT10 heater).
A NEW TAKE ON THE CLASSIC "FISHBOWL": All-in-one tank is a great option for first-time fishkeepers.
BUILT-IN FILTER: Cartridge-based filtration system.
UNIQUE WATERFALL FEATURE: Filtration system doubles as a beautiful waterfall feature for your tank while it circulates and cleans water.
INCLUDES LIGHTING: With the flip of a switch, low voltage LED lights illuminate your pets!
Last update on 2020-07-04 / Affiliate links / Images from Amazon Product Advertising API
Unfiltered water tanks are not preferred for housing of a Betta and if so, will require compulsory 50% water change twice week and complete water change once a week.
Waste products from fishes produce ammonia which is harmful in even small amounts. The filter needs to be effective in its working to remove it immediately.
Tank water cleaning for a filtered tank is easy in Betta with water change of 15-20% every week.
Betta fishes are easily affected by change in water temperature and thus make it sure that the water you are adding has the same temperature as the one it is already in.
Aquarium salt and water conditioners are good for Betta a they remove deadly toxins from the water. But, the amounts should be kept in regulation as they can harm the fish skin instead.
Tank can be cleaned by using gravel vacuum cleaners and soft clothes but not with soap or cleaning chemical. The bacteria in the tank are good for the fish.
Food and Diet
Bestseller No. 1
Tetra 77019 Betta Floating Mini Pellets for Bettas, 1.02 oz
BETTA FORMULATION Nutritionally complete daily diet for your Siamese fighting fish (betta splendens)
COLOR-ENHANCING Includes carotenoids to enhance your betta's naturally brilliant colors
FLOATING PELLETS Ideally sized for top-feeding bettas
PROCARE FORMULA Helps support fish's immune system for optimal health and long life
FOR DAILY FEEDING Feed 2 to 3 times daily only as much as your fish can consume within several minutes
Bestseller No. 2
Tetra BettaMin Select-A-Food 1.34 Ounces, Fish Flakes, Variety Pack
BETTA FORMULATION: Nutritionally balanced diet is an ideal daily staple food for your Siamese fighting fish (betta splendens) and other top-water feeding tropical fish.
3 FOODS IN 1: Includes Tetra BettaMin Flakes, freeze-dried shrimp and TetraBetta Floating Mini Pellets in one can.
FOR DAILY FEEDING: Advanced nutrition for the discerning fish-keeper.
COLOR-ENHANCING: Works to enhance your betta's naturally brilliant colors.
EASY-TO-USE DISPENSER: Canister top allows you to dial in the food you want.
Bestseller No. 3
Aqueon Pro Foods Betta Formula 1.4 oz
Nutritionally balanced for Betta
Developed around a betta's natural diet
Pellets float to allow for surface feeding
Contains color enhancers for vibrancy
Ideal for Betta, Gouramis and Paradise Fish
Bestseller No. 4
Bestseller No. 5
Tetra BloodWorms 0.28 Ounce, Freeze-Dried Food For Freshwater and Saltwater Fish, 0.28-Ounce, 100-Ml
aquarium DIET SUPPLEMENT Freeze-dried blood worms are a nutritious supplement to boost energy and conditioning in your aquarium fish
FOR FRESHWATER & SALTWATER FISH Perfect for bettas and ideal for small- to medium-sized tropical and marine fish
SPECIALLY PROCESSED Minimizes any undesirable organisms found in live bloodworms
CHILD-SAFETY LID Tetra BloodWorms should be kept out of reach of children
USAGE Feed 2 to 3 times a week in addition to staple diet only as much as your fish can consume within a few minutes
Last update on 2020-07-04 / Affiliate links / Images from Amazon Product Advertising API
Betta fish is carnivorous and requires a high protein meat and fish based diet.
Commercial pellets can be good food choice for Betta as it includes fish meat, blood worms, shrimp mixture.
Betta fish can easily get constipated due to overfeeding. It does not have a control over its food cravings. So, keep a check on the amounts required for your Betta fish's diet.
Betta requires around 2-3 pellets twice a day and not over that. Remove any uneaten food immediately from the tank.
Betta fish also likes snacks from time to time. They enjoy freeze dried or frozen bloodworms, brine shrimps and glass worms. Once a week is enough for them to avoid bloating.
Health and Sickness
Betta fish are highly prone to diseases as they are sensitive and have their behavioural tantrums too which affect its health.
The most common of the diseases are fin/tail rot and tail biting. They are mostly related to tank maintenance and can be cured easily.
Temperature change causes a lot of sickness to the Betta out of which lethargy is the most common. Use of a heater is recommended in the tank always.
Infections like white spots and parasite attack like ich are one of the deadly diseases for a Betta.
The best treatment for any disease treatment for a Betta is to isolate it in a similar tank rather than treating it in the same tank.
Tuberculosis is almost incurable in Betta fish.
Just like any other fish sickness, Betta can be cured by similar treatments for a too. But, use of aquarium salts and Epsum salts is a better method to treat most of them.