5 Best Air Pumps For Aquariums Reviewed
If you have an aquarium at your home or office then you can really understand the importance of a good-quality air pump.
The main job of the air pump is to ensure the proper circulation of air in the aquarium. It ensures that the aquarium water get more circulated oxygen by circulating the air with an optimal level of pressure.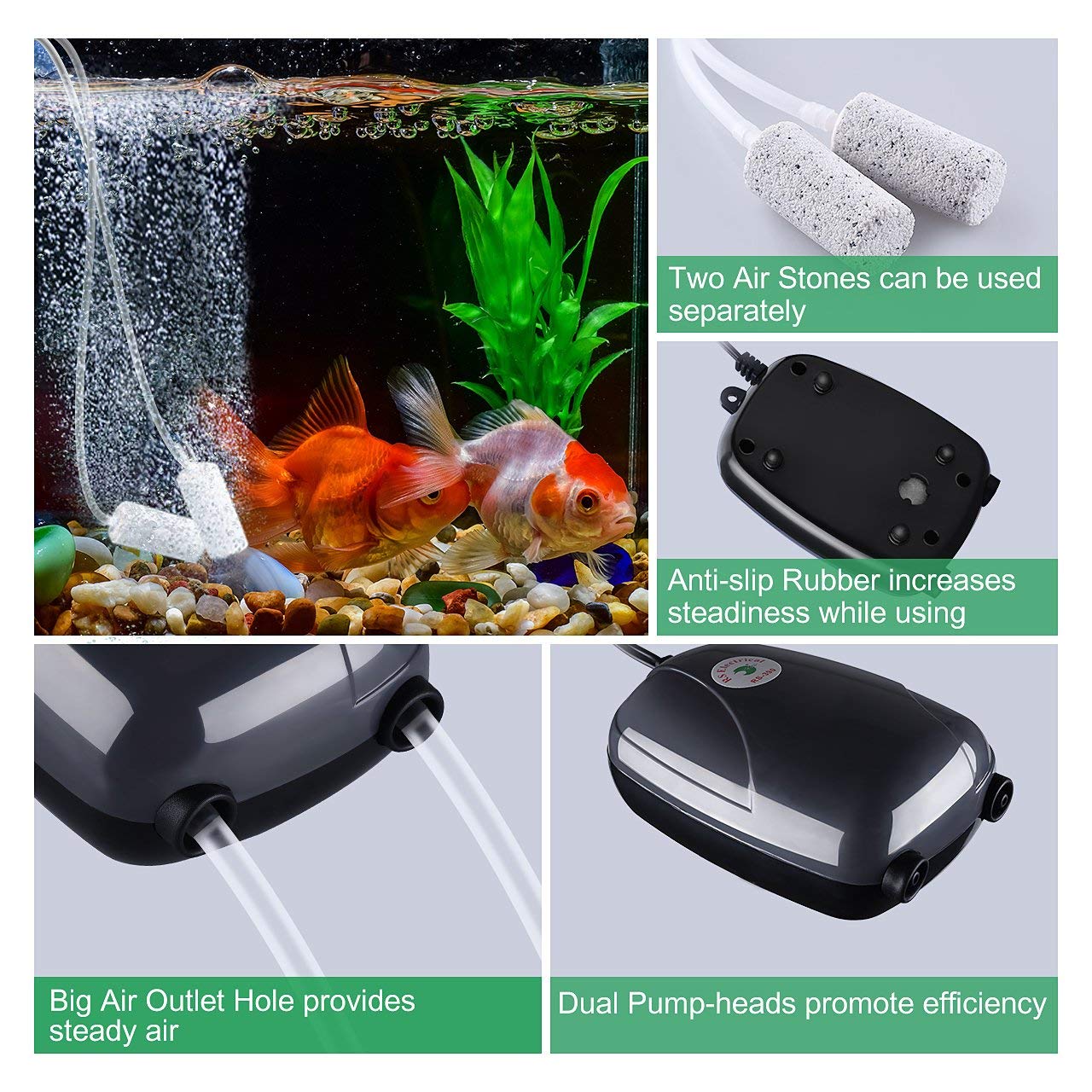 There are many options of air pumps available in the market. However, choosing the best-quality air pump depends upon a number of factors as compare to choosing the best gravels for your aquarium.
Why Use Aquarium Air Pump?
Air pump is highly essential for the proper oxygenation process in the aquarium water. This oxygenation process must happen frequently in the water to provide an optimal level of oxygen to fish.
It is also very important for the proper circulation of water in the aquarium.
Where to Place Aquarium Air Pump?
The right placement of an aquarium depends on the type and size of the air pump. Some air pumps are made to be mounted in the water and others on the side of the aquarium.
Generally, most of the air pumps have tubing directed in the fish tank so that they do not have to be mounted in the aquarium and this saves a lot of space in the aquarium.
Top 5 Air Pumps For Aquariums Reviewed
1. Tetra Whisper Air Pump – NON UL
Tetra Whisper Air Pump 40-60-Gallon
POWERFUL Tetra Whisper Air Pump provides dependable airflow to your aquarium
QUIET Patented dome shape suspended motor and sound-dampening chambers for quiet operation
AVAILABLE SIZES Select the proper size for your tank – 10 20 and 40-gallon pumps have single air outlets 60 and 100-gallon pumps feature dual outlets
NON-UL LISTED Reliable performance at an economical cost
age range description: All Life Stages
Last update on 2021-12-13 / Affiliate links / Images from Amazon Product Advertising API
Pros
Perfect for using in 10-Gallon Aquariums.
It is a very economical air pump.
Very efficient and easy to use.
It has a very unique dome shape and sound dampening chambers that help in reducing turbulence and produces a smooth, quiet stream of air.
Its design is very effecting in eliminating sound vibrations.
Very Quiet, powerful, and reliable air pump.
Material and fit are sturdy and highly durable.
Cons
Some users complained that after a few months the pump starts creating noise.
When it comes to buying an air pump, automatic fish feeders one thing is impossible to avoid – the noise. Most of the pumps have a certain noise readily or after a few months.
But, surprisingly this air pump is quieter than any other. Ranging from 10 to 100 gallons aquariums, this air pump gives superior aeration as well least sounds.
People end up calling it the device with sound of silence and it is not an exaggeration. Go check the reviews anywhere for yourself. You will not be disappointed.
Though this pump does not come with tubing, the plastic outlet pipes are enough to work things out.
2. Hydrofarm Active Aqua Air Pump
Sale
Last update on 2021-12-13 / Affiliate links / Images from Amazon Product Advertising API
Pros
It is a very silent air pump that comes with a multi-level muffler.
It is made with special artificial rubber that helps in maintaining a steady pressure and air flow output that can be adjusted easily.
It consumes very less power.
Offers adjustable air flow.
It is perfect for oxygenating reservoirs of all sizes and helps in maintaining the health of plants.
It also helps in providing dissolved oxygen to the nutrient solution.
Cons
Some customers complained that it creates too much noise.
Air supply between channels is not balanced.
If you are looking for an air pump which comes with more than one outlet options, this one is the best among them. Ranging from single to 8 outlets, all are efficient enough to work up the air consistently over longer periods.
The multi level mufflers make the sound minimal even in the one with 8 outlets. A special artificial rubber is installed in the pump to keep the flow of the air steady.
All the ranges of this air pump have proven to be low power consuming. If you use a carpet on the flat surface that it is put on, this pump is the quietest of all.
3. VicTsing Air Pump Ultra Silent High Out Energy Efficient Aquarium Air Pump
Pros
It is a multifunction air pump with multi-level muffler, oil-free compressed air pure, regulating valves.
It creates very less noise and can effectively regulate the air displacement.
It is a high-performance and large volume air pump.
This is perfect for small and medium-sized fish tank.
You can easily use it for high-grade aquariums, spout decoration, aquaculture oxygenation, etc.
It consumes very less power and works with high-efficiency.
It is a very long operating life air pump with stable performance for a long time.
It comes with a double-headed pump and two vents.
It can effectively provide oxygen to two aquariums at the same time.
Made with modern and practical design and shape.
It is very high quality and durable air pump. Plus, it is very lightweight and easily portable also.
Cons
Not as powerful as advertised.
Some buyers complained that air stones are of low quality.
Many people tend to complain about their aquarium air pumps being too noisy. But, the main reason they tend to ignore is the absence of a tube which reduces the noise drastically.
The air displacement is coordinated perfectly by this pump. The outlets and filters are efficient in providing an oil free filtration.
Silicone tubes up to 2 meters long are provided along with additional air stones which make the pump cleanest as well as least noisy. The pump works better when placed on a horizontal flat surface. This one has the longest operation life out of all others.
4. JW Pet Company Fusion Air Pump
Last update on 2021-12-13 / Affiliate links / Images from Amazon Product Advertising API
Pros
A very quiet and easily adjustable air pump.
It creates a very powerful airflow.
This air pump operates up to 2 air operated ornaments, air stones and filters.
It is a quite affordable product.
Cons
It is not completely silent as it creates slight buzz while running.
This one comes with a patented fusion baffle system which is unique in its own way. The design is sleek and works well as a decoration in the aquarium.
The pump does good justice to the pumping of air throughout the aquarium. However, if you can ignore the minimum sound that comes sooner or later from the pump, it is the best option in the rate range that it comes in.
It comes with an operation system of air stones, air ornaments and filters to ensure safest air outcome from the pumps.
5. Hpumps Aquarium Air Pump, Super Silent Highly Efficient
Last update on 2021-12-13 / Affiliate links / Images from Amazon Product Advertising API
Pros
This is the smallest and most silent air pump in the world. It is really ultra-quiet and sounds less than 33dB.
It consumes very less power which is only 1.5W with the flow rate of 240 ml/min.
This air pump is perfectly suitable for 2-20 gallon tank as it saves lots of energy and space
It offers quite a good long service life.
This is made of premium quality material. It can be easily placed on the tank wall and thus doesn't take up much space.
Its design is absolutely advanced, and it produces enough bubbles in the aquarium.
This is very easy to install and use. It can easily connect the silicone tube and filter air stone with a pump outlet.
Cons
Very expensive.
Some buyers have commented about its wrong voltage.
For the aquariums which fall in the smallest categories, people need to focus much on the technical sides and rather prefer the essentials to be creative and decorative too.
This product is one of those which give you the work you need as well as look cool in the small area. These pumps are effective in working from the smallest range of aquariums up to 100 gallons.
The special waterfall effect attracts many people as well as gives an enhancement to the sound that the pump makes. It is the best pump for Betta fish and nano tanks.
My Pick
The best aquarium air pump should always deliver the maximum level of performance with more oxygenated water.
Thus, in my opinion, VicTsing Aquarium and Fish Tank Oxygen Air Pump with 2 Air stones/2M Silicone Tubes is the best-quality air pump. It offers an abundance of facilities and works as a multifunctional pump.
The best thing it comes with a double-head pump. This means you can use the same air pump for two different aquariums. No other air pump offers this functionality. Plus, it is available at a very economical price.