Top 8 Aquarium Water Chillers
All the living organisms living in water require a particular level of temperature to sustain. Whether it is a fish or microscopic microbial invertebrates which are cold-blooded, their body temperature is controlled by the environment.
So when you get an aquarium, you are bestowed with the responsibility of providing the similar sea life to your pets as well. 
Aquarium chillers fulfill that purpose for you by lowering the water's temperature to the optimal level.
The priority of stable water temperature
As I have already told you that the aquatic life requires an optimal temperature to live, I will now tell you the reason behind.The marine life is sensitive to water temperature.
When the water becomes too hot or too cold for them, their life gets stressed. Consequently, it affects their immune system which makes the fish or other organisms vulnerable to diseases. 
Even the torn fins which normally heal slowly, take time when the fish is stressed. Also, the invisible bacteria or plankton which detoxify and recycle pollutants and nutrients, live in the same temperature as other marine organisms.
Naturally, the aquatic environment has a stable temperature. But rapid temperature shifts and fluctuations stress the environment. Even the freshwater tropical aquatic plants are sensitive to temperature stress. 
If it goes outside of plant's natural range, processes like photosynthesis and biochemical may shut down. Algae is an organism which lives in warm and stagnant environment.
An overheated aquarium can often face algae problems with green water and filamentous algae.When water temperature rises, oxygen holding capacity of the water declines. 
This could create a huge problem for your aquarium as the animals could suffer from low oxygen. According to a research, tropical fish which are exposed to extreme temperatures, become an easy prey of parasitic infection.
These factors prove how important a stable water temperature is in maintaining a healthy aquarium.
Why do aquariums overheat?
Overheating of aquariums is caused by water pumps, lighting or both. Most of the aquariums use magnetic drive water pumps. It is also used in power heads, hang on filters, canister filters, wave makers, and submersible water pumps.
An electric field is created around a magnetic impeller which makes it spin and pump water. The heat thus generated is transferred into the aquarium. 
The bigger the pump, the more heat it produces. Large aquariums need big pumps while reef tanks require circulation pumps to keep the water moving.
Other factors which contribute to the overheating of aquarium water include hot weather, poor air conditioning and lights. 
The incandescent bulbs and metal halide fixtures produce heat much more than other bulbs. Fluorescent bulbs and LED light fixtures do not heat the water much, but enough to warm the water beyond required.
How does an aquarium chiller work?
Aquarium chillers work by transferring the heat from the water to somewhere else. It causes the temperature to drop.
The chiller has 4 main components: heat exchanges (evaporator), condenser coil, a compressor, and an expansion valve.
The cooling exchange begins in the heat exchanger coil. The liquid refrigerant evaporates in the coil by absorbing the heat from water while circulating through the heat exchanger unit.
The heat exchanger is made up of titanium to resist corrosion by salt water and transfer excess heat into the coils. Now the refrigerant vapor is drawn out of the evaporator by the compressor. 
The compressor now pumps the refrigerant vapor into the condenser, thus raising its temperature. The refrigerant condenses in the tube, releasing heat in the air.
The aquarium chiller uses a fan to blow air across the condenser coil. This is how heat is removed from the refrigerant. 
The high-pressure liquid refrigerant in the condenser is passed through the expansion valve to reduce the pressure and temperature as it enters evaporation stage.
The refrigerant now again flows over the coil to absorb heat, thus completing the cycle.
The immersion or drop-in chiller works the same as a flow-through chiller except that the titanium heat exchanger is placed in the sump.
Drop-in chillers are designed for use in aquaculture, commercial and research operations. They are large in size, and require a lot of space to route the titanium exchanger and refrigerant hoses to the sump. 
While the built-in chillers are smaller, quieter and easier to install and maintain. That is why they are preferred by aquarists.
Thermoelectric coolers
Thermoelectric coolers are entirely different from the one I have mentioned above. They are solid state heat pumps that operate by utilizing the Peltier effect.
This effect occurs when the DC current flows through non-similar conductors. When current passes through this cooler, heat moves from one side to the other of the ceramic plate. 
It creates a temperature difference between the two plates.These types of chillers are better only for 10 gallon aquariums or smaller ones.
They do not work well when the tank has lot of inputs like pump and reef lighting.In aquariums, heat is absorbed by the probe sitting in the water. 
The heat is transferred to a sink above it. A fan is also plugged which blows the heat away. These probe-type coolers are great only for the fact that they come in a compact design and are easy to install.
But they require drilling in the aquarium and suspending the probe in the water by mounting the device above the tank.
How to select and aquarium chiller?
Aquarium chillers come in various designs and all of them are different from the other. I would recommend you to visit the manufacturer's website or contact him directly to know the specifications of different chillers.
Chillers are rated in BTUs and horsepower. Before contacting the seller there is some information that you need to know beforehand about your fish tank like: size of the tank in gallons, temperature of the overheated water, optimal temperature, and the wattage of all aquarium pumps and power heads.JBJ has an online chiller calculator. 
You just need to type the information and it will automatically recommend the right-sized chiller. You have to type the highest water temperature you expect while looking at the manufacturer's sizing charts.
Aquarium chiller size charts usually gives two recommendations which are based on the number of gallons the chiller can handle with a 10 degree (F) temperature change and the number of gallons it can chill with a 20 degree (F) temperature change. 
The warmer the water, the fewer gallons the chiller can handle.Some people select the chillers which are rated one above the manufacturer's recommendation.
It provides a reserve of cooling power if they add another power head, lightings or large pumps. Larger chillers operate on shorter cooling cycles compared to a smaller one.
Water flow is important!
Before getting the right chiller, it is important to match the water pump to the chiller. The water pump pushes the warm water through the chiller, past the heat exchanger and back to the tank.
This process is ongoing because the temperature of the water needs to be maintained in order for the marine life to sustain. If the water runs through the chiller too quickly, it will not work properly. 
Whereas if the water flows too slowly, it could freeze and damage the coils and compressor.So to avoid such a problem, you should separate the circulation pump from the chiller because the flow is important.
The manufacturers provide a recommended flow rate range in gallons per hour. It helps a lot in selecting the right chiller for your aquarium. 
However, the chart does not take into account the pressure required to push the water through the filter. Neither does it mentions the height needed to reach the aquarium.
For example: a pump is rated at a maximum flow rate 211 gallons per hour but it is calculated at 0 head pressure.In 4 feet of head, the flow rate of water pump drops down to 60GPH. 
It thus decreases as the head increases. Some manufacturers provide a chart mentioning the true flow rate versus the head or height of water.
While choosing the water pump, first determine the required flow rate for the chiller. If you don't have the right flow rate, the chiller won't function properly.
Chiller placement
The worst place to put the aquarium chiller is in the aquarium cabinet. As the chiller extracts heat from the water and releases it into the air, the water will probably get reheated if the chiller is kept in the cabinet.
The chiller has a fan inside to blow air across the condenser coil to remove heat from the refrigerant.So the chillers should be placed in an open space where there is enough airflow to carry the expelled heat away. If the chillers are unable to release the heat, they will become less effective. 
But still if you want to place it inside the cabinet, make sure there is adequate air flow to carry the heat away. According to some manufacturers, you should leave at least 12-18" of space around the chiller.
Aquarium Chillers Review List
Here are some best chillers available in the market on the basis of price and features:
IceProbe Thermoelectric Aquarium Chiller
Last update on 2021-12-15 / Affiliate links / Images from Amazon Product Advertising API
Pros
Best suited for nano aquariums
Works without noise
Reliable
No water pump required
Inexpensive
Cons
Not suited for large fish tanks
Don't give a nice look when placed on top of the tank.
It is one of the best known probe chillers available measuring about 4*4 ¾*7 ½ including the probe. They are popular because most of them are kept in small aquariums that are under 10 gallons.
Two IceProbe chillers can be used on a 20 gallon aquarium but it can't function properly in big ones. These chillers are made of high quality with a fan on top of the heat sink which is relatively quiet. 
In case you want to drill a hole through the tank, a 1.5" hole is needed.
The chiller comes with a sturdy threaded nut and a gasket which keeps it in place and prevents leakage. It requires 3-⅛ inches of clearance inside the tank. The chiller comes with a 1 year warranty.
Active Aqua Chiller 1/10 HP
Hydrofarm Active Aqua Chiller, 1/10 HP
Microcomputer control system and LCD display, very user-friendly
Large refrigeration capacity (recommended 13-105 gal, 50-400 L). Rated BTU per hour 960
Environmentally friendly (uses R134a) and surge protected, will automatically turn off in the event of a power surge
Tubing size: 1/2" (HGTB50), 3/4" (HGTB75) (comes with two sets of fittings)
Capable of chilling approximately 40 gal by 15 F, and 13 gal by 30 F (in 20 hrs)
Last update on 2021-12-15 / Affiliate links / Images from Amazon Product Advertising API
Pros
Cons
Marketed by hydroponics
Customer support is not available
Does Not come with manual book
It is a freon-free system that uses environmentally friendly R134a refrigerant. Though they are used primarily for hydroponics, the basic design is exactly like an aquarium chiller.
It comes with a touch pad with LCD which makes it easy to set the temperature. It has a corrosion resistant titanium heat exchanger which is safe for salt as well as fresh water. 
It comes with two fittings – ½ and ¾ tubing.This chiller is capable of chilling 40 gallon aquarium by 15F and 13 gallon tank by 30F. The flow range of the pump varies between 70-320 GPH. Dimensions are 16.5*9.6*14.4.
Hamilton Technology Aqua Euro Max
Last update on 2021-12-15 / Affiliate links / Images from Amazon Product Advertising API
Pros
Powerful and compact design
Corrosion resistant
Anti-freezing system
Easy setup
Front condenser can be easily removed for cleaning.
Reliable compressor that uses DuPont ozone friendly refrigerant
Heavy duty condenser
Automatic power surge shut-off control with last set temperature recall system which works during a power outage.
Digital LED temperature control display for user-friendly programming.
Cons
The chiller works quietly but the operation is audible.
This is a powerful cooling system for both fresh and saltwater fish tanks. This brand is efficient, compact and quiet. Its chilling capacity is 50 gallons at 10F below room temperature and 30 gallons at 20F.
It measures 13*8.5*16. The 1/13 model is for tanks up to 50 gallons with ½" fittings. For this, the recommended water pump is rated 160-295 gallons per hour.
JBJ Aquarium Arctica Titanium
Last update on 2021-12-15 / Affiliate links / Images from Amazon Product Advertising API
Pros
Works quietly
Reliable
Plug and play simplicity
2 year warranty
Easy to read LCD controller
Cons
It is one of the most advanced chillers out there. Its design provides maximum contact to increase chilling. The condenser is located at the front which draws cool air and releases the warm air out at the back.
It has a built-in thermostat and controller which maintains the optimal temperature within +/-1 degree F. Hoses connect to the chiller by ½"-¾ barbed fittings. Its dimensions are 16.5*9.8*18.5 with a 1 year warranty. 
It is fit for 130 gallons tank and the water pump should be rated at 160-295 gallons per hour.
Teco Tank TK-500 ⅙ HP
Teco Tank TK-500 1/6 HP Aquarium Chiller
For Typical Consumer Aquarium Sizes up to 130 Gallons
Built-in Heater, Rotatable Top Exhaust Conveyor and Magnetically-Affixed Filter Screen
Intuitive and Accurate Digital Thermostat Controller (ºF or ºC)
1/6 Horsepower Motor and 450 Watts of Cooling Capacity
Made in Italy, 2-Year Limited Warranty
Last update on 2021-12-15 / Affiliate links / Images from Amazon Product Advertising API
Pros
Two year warranty
Outstanding built
Works quietly
Heating and cooling capabilities
Protection against corrosion
Red LED display
Thermostat probe fit on incoming water
Cons
This chiller has a built-in heater and chilling capabilities. Its built is also very excellent which means no annoying rattles, sharp edges and vibrations. It is for tanks up to 130 gallons.
The chiller has a rotatable top exhaust conveyor which allows heat exchange without hurdles. The high-quality fan moves a lot of air without making any noise. 
If your stand has a cabinet then you can extend the exhaust converter in 2-inch using modular conveyor extension pieces.
It has an inset and rotating water inlet and outlet valves which helps with placement in compact places. The filter screen is attached to the front, magnetically for effortless maintenance, removal and installation. 
It has a digital thermostat controller with accurate detection from 32-95 degree F. It measures 12.2*12.2*16.4 with water in and out connections fit ¾" diameter tubing.
Coralife 1/10 HP Aquarium Chiller
Coralife Energy Savers ACL36060 Chiller 1/10hp
Coralife is one of the markets leading manufacturers of premium aquarium products
Simple to install and maintain-includes reusable air filter
The air filter is easily accessible and can be removed for cleaning
Coralife is one of the markets leading manufacturers of premium aquarium products
Simple to install and maintain-includes reusable air filter
Last update on 2021-12-15 / Affiliate links / Images from Amazon Product Advertising API
Pros
One-step setup
Works quietly
Reusable air filter
Cons
This chiller is the perfect fit for freshwater aquariums up to 55 gallons. It has an automatic temperature control system which sets the temperature at +/-2 degrees F.
Programming it is easy through the digital LED display. The titanium heat exchanger is rust resistant and efficiently transfers heat from water to the room.
It comes with a reusable air filter which can even be removed for cleaning. The barbed ⅝"-¾" hose connections are adjustable. It measures 14.5*12.75*15.75 with recommended water pump up to 200-300 gallons per hour.
EcoPlus ½ HP Aquarium Chiller
EcoPlus Chiller, 1/2 HP
Max water volume of 132 gallons
Recommended pump size 317 to 793 GPH; Includes plumbing connections of 3/4 inch male NPT with hose fittings
120 volt at 4.4 Amps
Country Of Origin: China
Last update on 2021-12-15 / Affiliate links / Images from Amazon Product Advertising API
Pros
Simple setup
Anti-corrosive titanium heat exchanger
Its Internal memory remembers the last setting and resets automatically during a power outage.
Digital LCD controller includes overload protection
Cons
Not reliable
Loud operation
High failure rate
Inaccurate thermostat
This ½ HP chiller is rated for up to 132 gallons. The recommended pump size is 317-793 gallons. It includes plumbing connection of ¾ inch male NPT with barbed hose fittings. It measures 21*15.5*22.
Kryos Advanced Aquatic Chiller
Deep Blue Professional ADB50060 Kryos Advanced Aquatic Chiller, 1/2 HP
Kryos advanced aquatic system 60 chiller put you in complete control of your aquatic environment
Changing the settings via the front panel controls, decide whether to go for maximum efficiency or extreme chilling power
The easy-to-read digital display keeps you informed of the precise temperature at which your system is operating
Top-quality compressor and titanium heat exchanger ensure the ultimate in trouble-free service
Features 1/2-horsepower for 200-310-gallon tanks, 750-1500 GPH flow rate, 39-90 degrees Fahrenheit range and 7.8-amperes
Last update on 2021-12-15 / Affiliate links / Images from Amazon Product Advertising API
Pros
Operates quietly
Easy to use front panel
Premium quality compressor
Bright digital display
Titanium heat exchanger ensures trouble-free service
Cons
Not suitable for beginners
Not reliable
These chillers give you full control of your aquatic environment. You can change the settings easily with front touch panel controls.
You can go for maximum efficiency or extreme chilling power, it is up to you. Its dimensions are 13.25*15.75*17.75 with a recommended water flow rate of 750-1500 GPH. The ½ horsepower chiller is for 200-310 gallon fish tanks.
Conclusion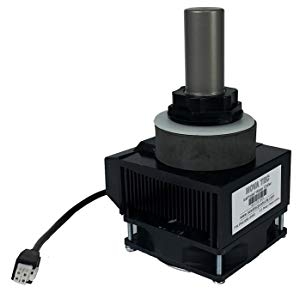 If you have a small aquarium I would suggest you to go for IceProbe Chiller because of its reliability, quiet operation and small size.
The JBJ Aquarium Arctica is another perfect option due to its suitability for both fresh and marine water. It is reliable, works efficiently and is available at a reasonable rate. 
My third and last pick would be the Teco Tank Chillers because of their combination of chilling and heating capability.
Its filter is easy to clean, the programmable audible temperature alarm provides another layer of protection and lastly, it isn't that much expensive.