8 Innovative Self Cleaning Aquariums Ideal For Home & Office
Before buying any kind of aquarium such as desktop nano aquarium, you have to check out the reviews first. Both freshwater and saltwater aquariums come in many different models and you need to carefully choose the top-rated model to get the best results.
No matter, how expensive or reliable an aquarium, all of them needs regular maintenance for their proper and consistent functioning. That is the reason now most of the people prefer buying self-cleaning fish tanks.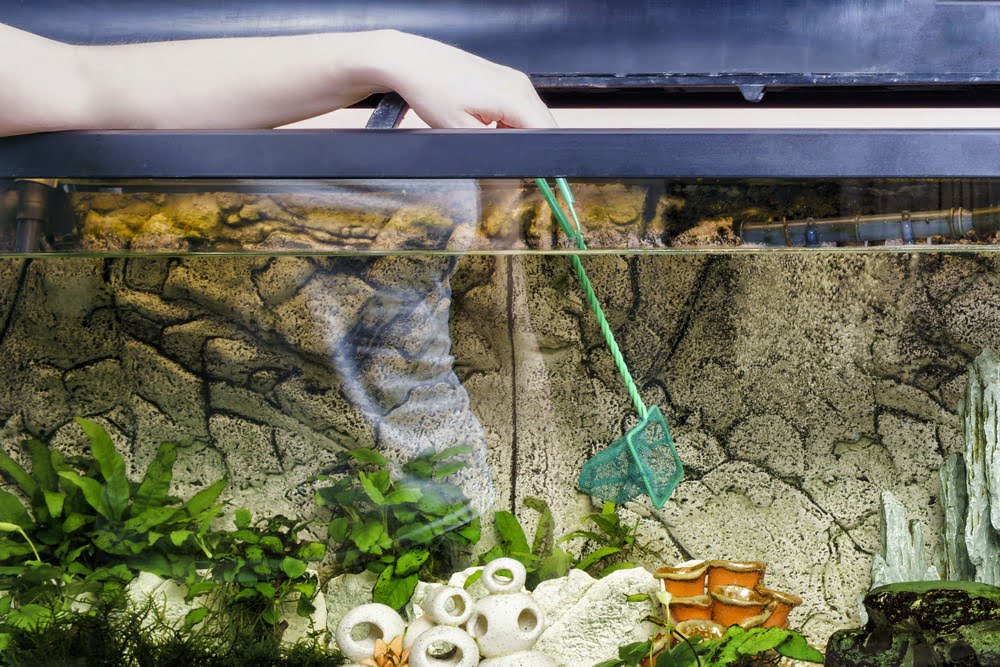 Here, we are not just talking about those simple and easy clean fish tanks that make you free from any cleaning task.
We are talking about those fish tanks that will be your dream tanks and considered as exceptional for cleaning dirt in a quick manner. 
If you have any experience in taking care of fish in your aquarium then you can understand the importance of a high-quality self-cleaning tank.
Who Needs It?
Practically talking, a self-cleaning fish tank is for everyone.
Only a person who has got plenty of time for cleaning fish tank does not need this. Or who enjoy the cleaning process of aquarium. More power to those people who enjoy cleaning.
But for most of the people, cleaning a fish tank is never easy. A self-cleaning tank is the most precious gift and invention of the creation that is a must-have for every aquarium lover.
A self-cleaning fish tank is perfect for you if:
You do not like cleaning the fish tank.
You have a very busy life and cannot find enough time to clean your fish tank on a regular basis.
You have the habit of forgetting to clean your aquarium. This usually happens with those people who sub-consciously do not like cleaning process but never really realize this fact consciously.
You are looking forward to gifting a fish tank to a kid who loves to admire the mesmerizing beauty of fish. But we know all kids or children are bit irresponsible and they cannot handle the cleaning task on their own. However, this fact is also true for some adults.
So, in nutshell, it is important to have for almost everyone to avoid any kind of mistake in the aquarium cleaning process.
Different Types of Self-Cleaning Tanks
Depending upon the type of its maintenance process and functionality, self-cleaning fish tank are divided into two main categories.
The first type is gravity based and the second one is the water garden approach.
The gravity-based tank pulls out the dirty water from pump when you add clean water. Plus, you do not have to worry about that it will also pull out the fish while cleaning.
This is because its power is not strong enough to pull out the fish from the tank along with water. Process is entirely simple and all you need to do is to just keep adding fresh water and put a container by the pump to collect the dirty water.
In the garden water approach, a small garden floats at the top of water.  This garden helps in preventing the water to get dirty by using the fish dirt as a fertilizer for the plants.
Benefits
Now, let's talk about the main benefits of using this type of fish tank.
It saves you lots of efforts and your energy as well. It is best for those people who feel very lazy to do the cleaning process. And they usually complete the cleaning process frequently without really cleaning the tank in a good way.
Second, it saves you lots of time. People who are really busy and hardworking they tend to put their entire time and focus on their work. 
They usually do not get much time to do the cleaning tasks as they do not have extra time on their schedule. Moreover, a self-cleaning tank is great for the health of your fish as it will always keep the water clean.
Drawbacks
The main drawback of using a self-cleaning fish tank is that most tanks don't really work in a proper manner.
If they don't clean the water accurately and you rely on their cleaning process then it will surely lead to the death of your fish.
Top 8 Self-Cleaning Tank Reviews
1. As Seen on TV My Fun Fish Tank
Pros
It is a very affordable fish tank.
It is perfect for the beginner aquarium users and for children as its maintenance is very simple and less time-consuming.
It acts as a beautiful decorative piece and can be perfectly used for placing on a desk.
Cons
You have to assemble it on your own which is a quite complex task.
For its perfect functioning, there is still a need for putting fresh water which children can easily forget.
If you are thinking about gifting a fish tank to a child on his birthday then this tank is the best choice. It is a freshwater tank with the water capacity of half-gallon and looks like a transparent plastic pitcher.
It measures are 4.5 inches from all the sides with a height of 10 inches. You can put a single fish in a tank and it will work properly.
Though it does not look like a simple empty pitcher as it already contains aquaroium rocks and aquatic plants. It comes with 2 AA batteries and also contains an LED light system that you can easily turn on and off.
For self-cleaning, it uses gravity cleaning technology. You simply need to put clean water in it on a regular basis and the dirty water will be thrown out from the disposable tube.
Just make sure or tell your kids to keep a water container below the tube so that it can catch dirty water.
2. Back to the Roots Water Garden
Pros
It is very helpful to give your children the practical knowledge about the life cycle of aquaponics version.
You can put multiple accessories into it such as lighter and heater as it contains 4 slots for power cords.
Cons
Some people have complained that the build quality is not good. However, all those complaints were posted before the improvements done in this fish tank version by the manufacturer.
The water still can get dirty due to some other factors and if that happen then you have to clean it manually.
It is both a self-cleaning and highly sustainable fish tank. This means you can literally make your own small ecosystem on the top of this tank that will help to grow food with the principles of aquaponics.
You will get all the essential items along with the tank during purchase.It has the capacity of 3 gallons and comes with water pumps, organic seeds 5 grow pots, natural aquatic supplies and fish food. 
It also offers a discount coupon with the purchase so that you can easily buy a betta fish for your tank.To run the ecosystem, the dirt produced by fish is used as fertilizer and that helps in preventing the water from getting dirty and keeping the fish toxins free as well.
This means there is no need to replace the water as the plants will do the cleaning task for you. You just have to make sure that you feed your fish in a timely manner.
3. NoClean Aquariums New GravityFlow Self-Cleaning
Pros
Its maintenance is very easy and simple.
It looks really beautiful especially when it glows with light during the night.
The company offers a very good and professional customer service.
Cons
It is quite expensive than My Fun Fish Tank.
It is a gravity-based model and it is quite bigger than the My fun Fish Tank as its height is 11 inches. It is made of glass and it was the one the first self-cleaning aquariums as well. Though, with the rising competition in the market, its improved version is also available.
It is made from heavy-duty glass material and offers a clear view of inside. It can easily carry the high weight of water so there is no possibility of glass breakage due to water weight.
You also put some polished stones and Illuma Flex LED light inside it. Its cleaning is very simple and fast that can be done in just one minute by a child as well. You can easily collect the dirty water which can be used to water and fertilize your garden.
It can also be used to enrich the look of your desk or living room and can be easily handled by children as well.
4. EcoQube Aquarium
Pros
It requires very low maintenance that makes it perfect for those who do not like to spend much time on the maintenance task. This makes you free from the headache of the health of your fish and also makes it a perfect gift to give as well.
It is a perfect decorative piece for desk or table due to its small size.
It is entirely handmade that adds more beauty to its look. Plus, it gives a clear view of inside as it is made of clear acrylic panels.
It also comes with LED lights that can create the look of a clear day, stormy weather, and cloudy sky inside the aquarium. It also contains greenery inside and you can also customize it according to your choice.
It does not make any noise.
Cons
It is manufactured by a startup company so some people don't trust its quality.
If you are a kind of person who does not want any maintenance headache then this fish tank is perfect for you. It is basically a desktop aquarium kit which is specifically made for betta and can be easily placed in your home and office as a decorative piece.
According to manufacturers, it is the best low-maintenance aquarium of all time. However, it is hard to believe this fact.
This fish tank comes with a unique aqauponics filter that can work efficiently without your help. Your work is only to feed fish 6 times a week and in a month or twice a month. There is no need to change the water or filter.
5. BiOrb FLOW 8 Gallon
Pros
It is a perfect decorative piece for containing single or two fish. It looks really beautiful and modern kind of fish tank. It also gives a clear view of inside without showing any green tint on the glass.
Its maintenance is very simple as you need to change the water and replace the filter cartridge after 4 weeks.
To feed the fish it also contains a gap in the middle that makes it very easy to feed fish.
It also contains a separate gap for the heater cord so that you can put the heater in it easily.
It also contains low voltage LED light plus and air pump. Plus, it also offers a 1 –year warranty.
Cons
It is a bit noisy so it can create trouble in your sleep time.
It is not for beginners who do not really know about an aquarium setup.
If you are looking for a simple fish tank for keeping just a small fish or two then this is the right tank for you.It contains all those important things that you need for its good functionality.
It is made of an acrylic tank with a total capacity of 8 gallons and contains an air pump, transformer, and airstone as well.
It also comes with a ceramic media of two pounds which is superior to smooth gravel. It offers a highly effective biological filtration system that efficiently keeps the water oxygenated and clean. Then its filter cartridge collects the excess water.
6. BiOrb Aquarium Kit
Pros
The only filter needs to be replaced after 4 weeks without any need of replacing water.
It looks beautiful and works in a great manner.
Cons
It is not suitable for small fish as there are chances of getting them sucked into the filter.
It is a bit expensive as you need to change the filter every 4 weeks.
Managing this tank is quite complicated for beginners, kids, and for people who do not like maintenance tasks.
For many people, putting water into the tank every day is not a pleasing task. For them, this BiOrb aquarium kit is perfect.It entirely looks like a traditional fishbowl and has a water capacity of 4 gallons.
It is very small in size with a diameter of 13 inches but it is also available in 8-gallon and 16-gallon version. Its silver rim adds more fineness to its overall look.
Though it is a kind of old fashioned fish tank, it also contains some modern features. Its filtration system is very unique as it works on a 5-stage cleaning method including mechanical, biological, and chemical filtration.
It comes with precise instructions and essential supplies that you need to manage it. It also contains beautiful light that makes it look very pretty at night.
7. AquaSprouts Garden
Pros
The kit comes with a garden bed and it will look perfect with black matte design.
You can easily remove the light mount and put inside 2-feet grow light.
It also contains a submersible pump with a flow rate of 160 gph. The mechanical plug timer efficiently controls the flood and drain cycles. It also comes with a warranty of 1-year.
It has durable grow media that works efficiently for many years.
The company has a great customer support team.
It is perfect for betta, angelfish, and tetras. You just need to make sure that garden is in good condition before putting in your fish. It is a small tank so you can put only few fish.
It works amazingly and available at a very reasonable price.
Cons
The setup is quite complicated, especially for beginner aquariums. To setup it properly, you first need to see some videos or find the instructions on their website.
It creates little noise that comes from the splash of water falling from a garden to the fish tank. Thus, it is not suitable to place in your garden.
It is the best aquaponics option for a 10-gallon tank but you need to buy the tank separately. It is very popular as it was also covered by the New York Times. Plus, with Kickstarter, it became a huge commercial item.
It contains both plant and fish that makes the cleaning process entirely natural done by plants.If you are an aquarium lover or admires exotic gardening then it is best for you, teachers, and students as well.
8. ​ECO-Cycle Aquaponics Kit w/Dual T5Grow Light
Pros
It contains everything you need, good lights, and filtration system except the actual tank.
It does not need much effort to make it functional as it is basically a plug and play system. You can easily set it up after watching a video.
You can also use it at your home or office even if you are not a teacher.
Though its system is quite complex, it still doesn't need much maintenance. All you need to take care is changing the water in a timely manner.
There is no issue of risk of breakage of parts as every component is made of high-quality material.
The customer support is also amazing and they quickly replace any broken piece.
Cons
Putting an automatic feeder in it can be quite complicated.
Cleaning the tank and bed area is also very complicated. You have to deal with pump tubing, lighting fixture, and an electrical cord for cleaning.
This kit is suitable for teaching students about eco life conversation and can be easily used by teachers in a classroom setting.
To use this, you need a standard tank of 20-gallon or an aquarium with a 12 by 24-inch footprint.After that, it can be easily used to create a real garden in a barren setting. To raise plant life and fish together in the aquarium, it works on the principle of aquaponics. 
That turns the waste product of fish into healthy nutrients for plants.Moreover, many teachers have written great reviews about it as it works as an effective educational tool. This is the best way to learn the learning of ecosystem and works great for raising basil.
Frequently Asked Questions (FAQ)
If you are new to the aquarium world then you might have some questions. Here are the answers to the most common questions asked by people: (Also Check Out – How to Choose Aquarium Fish Tanks – Comprehensive Buyers Guide)
Does water have to be treated?
Water has to treat only if you want to add it to your aquarium. This is because tap water can kill your fish.
What is the right way of keeping water warm?
Keeping the water temperature warm is not at all difficult especially when it comes to betta fish. All you need to do is to just buy the Marina Betta Submersible Heater and it will do the work properly. This is best for tanks with very less water capacity of up to 1.5 gallons.
It is an 8-watt heater and emits the consistent level of heat. However, its complete effect depends upon the size of the tank.
Is it right to use aquatic plants?
Aquatic plants are absolutely perfect if you have bettas in your fish tank and they will also make your tank look beautiful.
But the main question is what type of plants you should use, real or plastic. On the internet, there is quite a debate on this issue and to get an exact idea, you can Google what other aquarium users are saying.
However, if you are a beginner aquarium owner or giving it to kids, then it's better off with plastic plants. It is quite difficult for beginners to manage things.
Also Read: Reviews of Best Aquarium Plants you can use for your aquarium.
My Pick
In our opinion, the best self-cleaning fish tank that is most suitable for newbies or for kids is MY Fun Fish Tank.
This is the best tank that can be used for starting your aquarium experience. The best thing is that it is very inexpensive that makes it affordable for everyone. 
It is not good to spend a high amount of money on a new hobby when you really don't know whether it is going to work for you or not.
If changing water in aquarium seems a difficult or boring task to you then it is definitely not a hobby for you. Other self-cleaning fish tank options are quite expensive.