6 STUNNING RIMLESS FISHTANKS
Aquariums make your place look beautiful. This is the main reason people buy it in the first place. Rimless aquariums are the new addition to the stock. They are the most beautiful type of aquariums that makes your home look 100 times good than it actually is.
What is it?
Rimless aquariums is different from braced aquariums which come with a plastic edge along the top or bottom. They are perfect for canopy and provides an additional support to the glass.
The other type is frameless or rimless aquariums which does not have the braces and so they provide a cleaner look of the life inside. Most of the aquariums now don't come with braces especially the smaller ones.
Benefits
This point is more of a feature of rimless aquariums. The reason why people nowadays are choosing them over others is because of their look.
Rimless aquariums provide a very clean look which makes it possible to even see the water line. With braced aquariums, the water line is not visible which gives it an artificial look.
These aquariums do not use canopy and so you are able to access the beautiful top of the tank.
Drawbacks
If your fish tank is filled with salt water then you will notice the unsightly salt creep depositing above the water line.
Even if the water is fresh, there's a risk of water sloshing at the edge when you handle the tank.
If your fish tank has a jumping fish or snails, then lack of canopy becomes a problem. It could happen that these animals jump out of the aquarium and you have no idea. To avoid it you can put a screen on the top but it will defeat the purpose of rimless tank. This is the reason why rimless tanks are best suited for a reef setup.
Who is it for?
Now that we know the benefits and drawbacks of rimless fish tanks, we can decide its ideal owner. Rimless fish tanks are best for those who
Value aesthetics
Don't have a jumping fish or restless snails inside
Are careful with their tank so that the water inside don't slosh over.
Are experienced in dealing with aquariums as it does not come with pre-installed accessories like a filter system, lights, heaters, etc. So only an experienced person can accessorize the tank properly.
Rimless Tank Reviews
We have discussed the pros, cons and ideal owner for rimless fish tanks. So now we will move on to the next part where I will tell you the best of them available in the market right now. I will share their features, pros and cons for your assistance.
Before deciding on getting a particular rimless aquarium, you should read its reviews. Then go for the top-rated and reasonable one.
Deep Blue Professional ADB11443 Rimless Cube Aquarium Glass Tank
Last update on 2023-11-24 / Affiliate links / Images from Amazon Product Advertising API
Pros
Very easy setup
Available at a reasonable price
Glass is extremely clear which gives a great look.
Provides foam support at the bottom.
Since it is a transparent cube, you are able to see the inside of aquarium from all sides.
It is made of great quality material from USA so you need not worry about leaks.
Cons
The size is small so you will be limited to the number of fishes.
It is a glass cube container with open top. It comes with a black silicone support along the edges. Measuring 12 inches in all, it can store up to 7.5 gallons of water. 
There is a lining of foam along the bottom of the tank which fulfills the purpose of a cushion. It helps in distributing the weight evenly along the bottom pane.
JBJ Lighting JB7319 Rimless Nano Aquarium, 8 Gallon
Last update on 2023-11-24 / Affiliate links / Images from Amazon Product Advertising API
Pros
Available at an affordable price.
Saves you the trouble of outfitting it with your filtration system.
If you keep the unit undamaged, then it looks great.
Cons
People have reported some quality issues with this model like – scratches on the glass, back filter isn't attached properly, etc.
Measuring 11.8*13.77*13.77 inches, with 6mm thick bent glass, this aquarium comes with a filtration system. Along with it, you also get a tempered glass lid and clips.
The overflow dimensions are 3.5*3.5*13.77 inches. Its filtration system acts as a mechanical sponge, an activated carbon sponge and biological ceramic rings for 3 stage filtration system.
Apart from this, you get a dual return pumps, heater column and nozzles. Altogether, these things take up a maximum of 3.5*4.76*13.77 inches of the space. So you are not able to see one side of the aquarium.
If you are going to place it along the wall, then it doesn't matter that you will not be able to watch the tank from one side. But if you are going to keep it in the center of the room, then you need to think twice.
Deep Blue Professional ADB11443, 10 Gallon
Last update on 2023-11-24 / Affiliate links / Images from Amazon Product Advertising API
Pros
You can get more fishes because of its size.
Provides foam support at the bottom.
It looks great.
Cons
Comparatively expensive than the previous model.
This the elder cousin of the DBP model which I have already mentioned. Similar to the previous model, this one also has a foam along the bottom for support.
Landen 60P, 17.1 Gallon Rimless Low Iron
LANDEN 60P 16 Gallon Rimless Low Iron Aquarium Tank, 23.6" W × 11.8" D × 14.2" H (60cm x 30cm x 36cm) 6mm Thickness with Nano Foam Leveling Mat 111004
[Rich Landscape Application] Rich landscape aquascape design, suitable for all kinds of scenes.
[Charminess of Ultra White Vat] 6mm thick heavy-duty glass with high light transmittance and low iron, 91% transparency, bezel-less design, and wide vision bring you an immersive viewing experience.
[High-Quality Manufacturing Standard] Standard right Angle, accurate size, mirror edge grinding, joint glue uniform, smooth feel.
[Fish Tank Specification] 23.6" L × 11.8" W × 14.2" H (60cm x 30cm x 36cm); Thickness: 6 mm.Approx 15.84 gallon
[Packing, Transportation, and Gift] Net weight: 29.32lb Packing weight: 37.04 pounds; Free EVA material fish tank cushioning pad; Professional packaging; transportation safety is guaranteed.
Last update on 2023-11-24 / Affiliate links / Images from Amazon Product Advertising API
Pros
The crystal-clear quality of the glass gives it a great look.
You won't find any green tint on the glass due to the low iron content.
It does not come with any silicone that you need to trim.
There is enough space in the tank for your reef and fish options.
Cons
It is not the right choice for beginners because of its bare-bones setup.
Made from 6mm glass, this model is low iron glass so the clarity and transparency is more than 91%. Its dimensions are 23.6 (L) * 11.8 (W) * 14.2 (H) inches.
JBJ Lighting JB7338 Rimless Cube, 30 Gallon
JBJ Lighting JB7338 Rimless Cube, 30-Gallon
The rimless cube aquarium offers a sleek and classy design
The rimless cube aquarium offers a unique and panoramic view
The tank comes with a crystal clear water filtration along with a powerful water flow
Last update on 2023-11-24 / Affiliate links / Images from Amazon Product Advertising API
Pros
Its larger panoramic view gives it a classy look.
It has more space than the previous model which means more fish and decor options.
Cons
This model has some quality issues like – defective parts. Some people have also reported that its tank burst after a time.
​Its filtration system is similar to the 8 gallon version. It has the same dimensions - 3.5*4.76*13.77 inches, the same 3-stage filtration system and enough space to setup the heater. 
The only difference is the thickness of the glass which is 8mm and dimensions which are 23.6*19.7*16.5 inches.
50 Gallon Starfire Aquariums with Center Overflow
Last update on 2023-11-24 / Affiliate links / Images from Amazon Product Advertising API
Pros
It encapsulates the rimless look.
Its customer support is great.
There is enough space for your fish and reef.
It comes with a LOC-Line plumbing fixtures.
The glass is very thick so you need not worry about it bursting overtime.
Cons
It is expensive.
You will need to do some alterations with the drain, bulkhead and T-fitting. But the customer staff is there to help you out.
It measures 24*24*20 inches with a thickness of 10mm. It is pre-drilled with the drain and return holes inside the overflow box. 
It has 50 gallon capacity. So altogether, you get a 1 inch drain bulkhead, a return T-Pipe, a Durso standpipe and a 1/2 inch return bulkhead.
Conclusion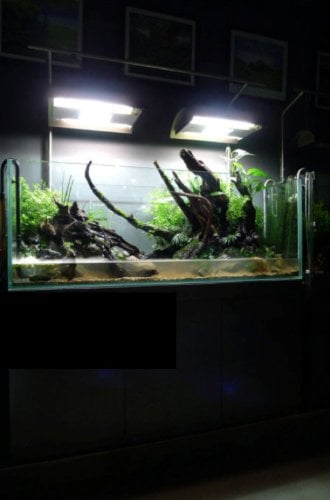 In the end I would like to say that if you are going to buy an aquarium, then get a rimless one. It gives a great look to your home and office.
And also, if you get a big-sized model, you can keep a variety of fishes inside.Out of all the models that I have introduced to you, the best one is the Landen model. 
Sure it does not come with all the required equipment but it is also not for the beginners. You can buy accessories of other models but it won't work well.
So it will be great if you are experienced with handling aquariums. Landen is a great choice. It is affordable, great quality and clarity of the glass - all are excellent. You will not be disappointed.