TOP QUALITY AQUARIUM GRAVEL SYPHON
Earlier, I used to think that aquarium gravels are just like any other gravel we find on the road side. They are dirty and needs to be cleaned a lot before being placed in a tank.
But overtime, I learnt that the gravels we find on roads might be dirty but the ones underwater are as clean as they could be. There is no need to clean them especially with a cleaner.
What is an Aquarium Vacuum and Why do we need it?
There are two types of gravel cleaners available in the market. One is the special fish tank siphon that helps in replacing dirty water with the clean one.
When the dirty water is removed, a tose or tube can be used to siphon off waste products inside the tank.
The other type of cleaner does not siphon off the water at all. It just sucks the organic waste and uneaten food through a mesh. It is used while changing the water. This cleaner is helpful in removing the debris settled along the gravel area.
Many people ask me that why is there a need to get this cleaner when the tank already has a filtration system and a protein skimmer. 
The answer is simple. An aquarium vacuum gets rid of pollutants right away before damaging the water which reduces the load on protein skimmer and filtration system.
​How to use it?
It's hard for me to describe how to use an aquarium vacuum here, but all I will say is do as directed in the manual. The manual contains all the necessary steps.
The usual step is sticking a hose or tube along the gravel to get the debris on it. During the process, the gravel drops back onto the tank bed. 
While the water is cycled back, the mesh traps the organic debris on it. You just have to stick the tube gently through the gravel to get the dirt.
Benefits
Its main benefits are:
Keeps your aquarium clean.
Makes it look nicer and cleaner.
Lengthens the time between water changes.
Drawbacks
Since this tool is new in the market, it is not yet perfected. So it may require some skills on your part to use it right.
In addition, you are likely to siphon off small stones while cleaning which can cause problem to the unit.
Aquarium Gravel Cleaner Reviews
Now that we are straight on the uses, benefits and drawbacks of gravel cleaner, it is time to list the best available options in the market.
Python No Spill Clean And Fill
Pros
Very effective water cleaner.
Adapts to most faucets with available adapters.
Also works as a vacuum gravel cleaner so that you can clean debris along with the water.
Cons
If you are using it only as a vacuum gravel cleaner then it is expensive. However, if you are using it as a water changer too, then the price is reasonable.
You need to take help of the manual to use it as a gravel cleaner properly.
---
This one is the best seller on Amazon mainly because it helps in siphoning off and put water into your fish tank without the need to carry buckets of water. It is a pretty effective cleaner. 
Only if you add  extra adapters or longer tuber or hoses to the kit, it will work significantly. All you need to care about is that your basin and faucet are 25 feet long.
EHEIM Quick Vac Pro
Pros
Easy to use
No need to do cleaning with water change.
Suction power is great
Comes with a 2-year guarantee
Cons
Expensive
There have been reports of bad quality.
Inherent design flaw – The impeller has a tendency to jam.
---
This piece exemplifies the other gravel cleaners as it only acts as a vacuum gravel cleaner.
It is an electric aquarium vacuum with a battery-operated unit. The batteries are 4AA which can work up to 4 hours straight.
Quick Vac is ideal when there is a lot of waste inside your tank along with gravel bed. You just have to put it in the water and the mesh will gently suck the debris while the water gets returned to the tank.
After finishing this, just snap out the mesh cartridge and clean off the dirt and put it back.
EHEIM Fluval EDGE Gravel Cleaner
Pros
Available at a reasonable rate
Can reach the debris in the gravel from any angle.
Comes with a gravel guard which keeps the gravel from siphoning off to clog the hose.
Comes with two cleaning heads.

Cons
It's pretty useless if you don't know how to start the 'easy start' valve.
The diameter of the hose is just 1-inch which makes it ideal for only the small tanks.
---
You can get it from the name that this cleaner is designed for nano aquariums. It means that you don't need to carry buckets of water to and fro.
It works like Python except for the fact that it is 5-feet long which means that you will need a bucket for the dirty water. Also, while this gravel cleaner removes the water, it does not fill anything up. 
It gives a chance to treat the water instead of adding the conditioner directly into the tank.
Marina Easy Clean
Pros
Available at a reasonable price
Its main function is to siphon water during water change.
While siphoning off the water, you can remove the gravel as well.
Cons
Its suction power is at low setting which means that it is suitable only for small tanks.
It is a little bit difficult to get the hang of starting the siphon.
---
Marina cares about your aquariums and that is why they have designed the Aquarium Gravel Cleaner in 4 sizes – from small to large.
The smallest model has a diameter of 1-inch while the largest one is 2.5-inch. The medium sized model has a 2-5-inch diameter and a 15-inch long cleaning tube. 
It hose does not kink and it takes out the dirty water. You just have to do the 'up and down' motion to clean it up.
KollerCraft TOM Mr. Cleaner
Pros
Available at a reasonable rate.
It is a great gravel cleaner only if you know how to operate it right.
Assembling it is easy – Take off the black piece first before you put in the sock which traps the waste.
Cons
Needs to be angled properly to work better.
The sock provided does not work well, so you might need to replace it with a nylon sock.
You will need to be careful so as not to end up too close to the edge of the tank which can spill the water all over.
---
This battery-operated model comes in a 3-in-one cleaning option. It can be used as a gravel cleaner, algae remover or to siphon dirty water.
It uses 2C batteries with a tube which extends from 8-16 inches. It is not designed to be fully submerged in water, that is why it is ideal for only nano tanks. 
It sucks off the water and then flows through a mesh cartridge which traps the waste.
The water is then either returned to the tank or drawn off through a hose, into a bucket.
Conclusion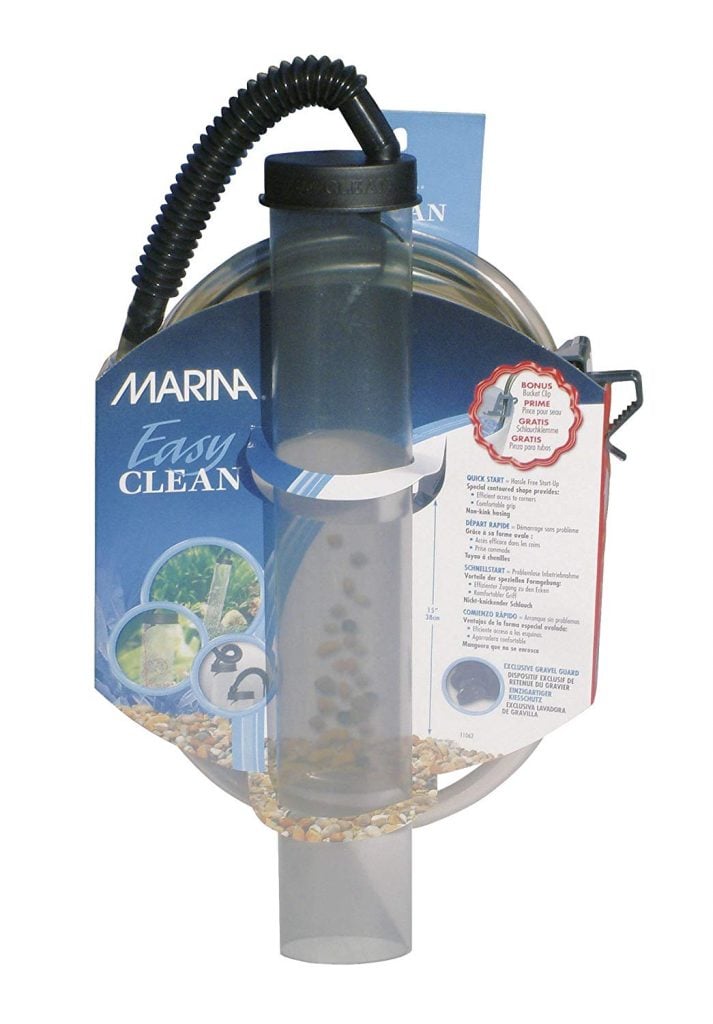 According to me, the best aquarium vacuum cleaner is Marina. It works just right. Also, it is available in different sizes which makes it an ideal choice for all types of aquariums – from small too big.
The quality is also great. If you too choose this one for your fish tank, make sure that you watch videos on YouTube on how to set it up and use properly. You will get hang of it overtime!