A Simple Guide For Setting Up Of A 37 Gallon Aquarium
Are you planning on buying a fish tank but not sure if you will be able to manage it?
Take my advice and go for a 37 gallon size. It is just the right size if you want to start the fish-keeping hobby. This size is perfect if you have no idea about fish-keeping but want to start it.
In this article I have written a step-by-step guide for the setting up of a 37 gallon aquarium. I am well aware that this size is not easily available in the market, but I have made a great effort in listing them for you.
So let's begin with the procedure! Shall we ?

STEP 1: BUYING A TANK
Before we begin with the procedure of setting up an aquarium, make sure that you have the right tank.
Every tank has its unique specifications, and the right one depends on your requirements. So do a thorough research and read reviews before buying one.
37 gallon fish tanks are usually available in rectangular shapes. So you do not have many choices available. Here I have shortlisted some of them and given their reviews in detail.
REVIEWS OF 37 GALLON FISH TANKS
AQUEON ALL GLASS 10037 37 GALLON AQUARIUM
All Glass Aquarium AAG10037 Tank, 37-Gallon
The All-Glass standard size aquarium is made with care to assure that it can stand up to almost any application
These aquariums come in a wide range of sizes as well as Black and Oak trim styles
Large aquariums feature one-piece center-braced frames that eliminate glass Bowing
The All-Glass standard size aquarium is made with care to assure that it can stand up to almost any application
These aquariums come in a wide range of sizes as well as Black and Oak trim styles
Last update on 2023-06-02 / Affiliate links / Images from Amazon Product Advertising API
This high-quality 37 gallon fish tank is made entirely of glass. It has a simple and modern design of rectangular shape, and made of premium, strong glass in black or oak trim, allowing you to customize the tank as per your mood.
Though it is slightly smaller than a 40 gallon tank, it still provides an extensive and tranquil view through the large glass panes.  It offers plenty of space, thus making it extremely versatile.
The best feature of this tank is its suitability for a variety of applications including freshwater, marine, reef and planted setups.
Also, it employs one-piece centre braced frames to prevent glass-bowing, thus increasing the lifespan and quality of the product.
FEATURES:
Made of glass
Rectangular shape
Weighs around 46 pounds
Available at a reasonable price on Amazon.
Dimensions: 30.3 wide * 12.5 long * 22.8 high inches
PERFECTO MANUFACTURING 37 GALLON FISH TANK
Last update on 2023-06-02 / Affiliate links / Images from Amazon Product Advertising API
Looking for a long, rectangular tank so that your fish has enough space to move about?
Go for this 30*12*22 inches black aquarium from Perfecto Manufacturing. It easily converts from quick-clean water polisher to continuous duty mechanical or chemical filter.
Its filter is one of its best features, which can filter up to 50 gallon aquariums. It is powerful enough to do the work of two filtration systems.
The top of the tank is silicon-sealed so as to prevent capillary action. And it is ideal for both freshwater and saltwater setups, and can be used with hang-on tank filters or canister filters.
FEATURES:
Silicon-sealed top frame
Made of distortion-free glass
Weighs 43.5 pounds when empty
Ideal for both freshwater and saltwater fish
Dimensions: 30 wide * 12 long * 22 high inches
TOP FIN ESSENTIALS AQUARIUM STARTER KIT
No products found.
Create your own magical underwater world with this starter kit from Top Fin Essentials. It includes everything that a newbie aquarist needs to get started.
This kit is one of the best among the 37 gallon category. It includes a Glass Tank with Hood, Bright White LED Lighting, Thermometer, 6 in Nylon Net, Water Testing Kit, 200 Watt Heater, Silentstream 40 Power Filter and an Instruction Manual.
The 40 Power Filter keeps the water crystal clear and your fish healthy. The adjustable heater and thermometer makes this aquarium ideal for tropical and marine fish.
It is a very spacious tank for your fish to swim and you can also decorate it.
FEATURES:
Made of glass
Available in clear glass and black frame
Dimensions: 12 wide * 30 long * 22 high inches
STEP 2: BUYING THE RIGHT STAND
Now that you have purchased the tank, you are just a few steps away from officially becoming a fishkeeper and joining thousands of fish owners around the world who are already enjoying this wonderful hobby.
In this step, you have to buy a stand suitable to the shape of your tank.
Aquarium stands are a must for large and medium sized aquariums. If you do not have a furniture with smooth surface, you might be needing a separate stand for it. It not only makes the aquarium looks even better but it also keeps it safe.
Following are my favorite stands for a 37 gallon fish tank:
Ameriwood Home Harbor 37 Gallon Black Aquarium Stand
Flipper Harbor 29 - 37 Gallon Aquarium Stand, Black
Proudly display your fish on the Flipper Harbor 29 – 37 Gallon Aquarium Stand
Made of laminated particleboard and MDF, the sleek black finish contrasts the brushed nickel door handles
Keep your fish food, nets, and water treatments stored away on the 4 shelves, 2 adjustable, behind 2 doors. Aquarium Stand fits snugly against the wall to create a 3 sided view of your aquarium
Finish your room with other items from Flipper (sold separately)
The Aquarium Stand ships flat to your door and 2 adults are recommended to assemble. The Stand is built to hold up to 37 gallon aquariums or up to 450 lbs. Each shelf holds 25 lbs. Assembled dimensions: 30.333"H x 33.0625"W x 14.6875"D
Last update on 2023-06-02 / Affiliate links / Images from Amazon Product Advertising API
This stand is perfect to display your fresh or saltwater aquarium. It measures 30.33 inches high, 33.06 inches wide and 14.68 inches long.
 It can hold up to 450 LBS and each shelf has the capacity of holding up to 25 LBS.
However, it requires assembly on opening.The stand has a sleek, black finish on the laminated particleboard and MDF contrasts the brushed nickel door-handles to give a modern look.
You can keep your fish food, nets and water treatments stored away on the 4 shelves, 2 adjustable, behind the 2 doors provided in the stand.
The best thing is that it fits snugly against the wall to create a 3-sided view of your beautiful aquarium.
Marineland 37 Gallon LED Hood & Stand Ensemble
Marineland (Aquaria) AML29038 Biowheel Aquarium Kit with LED Light, 37-Gallon
Bio-Wheel aquarium kit features a new updated hood and LED lighting
Features 3 position switch on, blue and off
Includes 37 gallon glass aquarium, fluorescent lighting, filter and cartridge
Also includes 200 watt submersible heater, fish net, thermometer, food and water care samples and set up guide
The LED aquarium light integrates securely into place even when the hood is open
Last update on 2023-06-02 / Affiliate links / Images from Amazon Product Advertising API
Treat your fish in this 37 gallon rectangular, medium-sized ensemble by Marineland. It is a great way to start or upgrade an existing setup, offering great value for money and versatility.
The tank is manufactured from high-quality glass, providing an elegant view of the tank. It includes a 45-LED light hood.
The stand is a modern storage ensemble that includes two shelves for storing all tank accessories. It measures 28 inches high, 32 inches wide and 14 inches long.
Aquatic Fundamentals 37 Gallon Aquarium Stand with Shelf
Last update on 2023-06-02 / Affiliate links / Images from Amazon Product Advertising API
This aquarium stand features a powder-finish for extra moisture resistance and the shelf adds the most affordable way to keep all your aquarium essentials at an arms' length.
The stand has a metal-to-metal locking cam assembly, with steel legs for added strength and durability.
The stand is constructed of MDF (Medium-Density Fiberboard), with a solid top for greater stability. It is undoubtedly a sturdier and longer-lasting quality product.
STEP 3: MAKING THE TANK READY
After the first two steps, it is time to move on to the next which is making the tank ready.It means that you have to clean the tank thoroughly, inside and out.
But remember to not use harsh chemicals while cleaning the inside of the tank, as it might harm the fish.
Another step is to wash the aquarium gravel, rocks and ornaments with warm water. Make sure to clean them more than once as they form an important part of the aquarium.
Here are some factors that will work towards deciding the kind of GRAVEL you should put in your tank:
Fish help you decide the kind of gravel you need and how much of it. Some fish prefer coarse gravel where they can mess around, while some prefer finer gravel where they can dig around and forage in.
Big-rooted plants require a deep layer of finer gravel because they need a lot of nutrients from it. Plants with small roots can do with a shallower layer of coarse gravel.
The size of your tank is another determinant of the amount of gravel you need.
Some substrate for planted aquariums are:
STEP 4: FILLING THE TANK WITH WATER
Now you have to pour the water onto a plate or saucer sitting on the gravel, to keep it in place. Remember to add a water conditioner to dechlorinate the water.
Then, by using an aquarium-check valve, locate your air pump underneath the tank. Add live plants after warming the water with a heater. You can also use an aquatic plant fertilizer for the purpose like:
Now add the rest of the water, leaving some air space between the water and the cover.
STEP 5: ADDING FISH
Some fish species are calm while some are active. It depends on you, what type of environment you want to create in your tank. So choose the species accordingly.
The fish species you want to have in a 37 gallon aquarium, depends on the environment you want to create and the kind of stuff you have placed in the tank.
ANGELFISH is one species that you can keep in a tall and rectangular 37 gallon aquarium. I would recommend you to keep just one of them, otherwise it would be fighting with other Angelfish.
HONEY GOURAMI will be my another recommendation as it grows only about 2-2.5 inches at max. Also, you can keep a shrimp around them, as they do not prey on them that much. Prefer to keep a FEMALE GOURAMI over the male ones, as they are not as aggressive.
APISTOGRAMMA is also a great pick as it is adaptable to any environment and goes well with lots of school fish. You can keep 20 or more of them.
BOLIVIAN RAM as they grow 3 inches at max and BETTA, as they can easily survive in the size of a 37 gallon and are not at all aggressive.
For a riverine community set up in a 37 gallon aquarium, here are two examples:
CALM SPECIES
6 Hatchet fish for the Top
8 Glass Catfish for the Middle
8 Kuhli Loaches for the Bottom
A pair of Pearl Gourami for the Center
Nerite Snails
ACTIVE SPECIES
6 Rummynose Tetras for the Top
10 Celestial Pearl Danios for the Middle
6 Dwarf Corydora Catfish for the Bottom
A pair of Keyhole Cichlids for the Center
6 Otocinclus Catfish
Congratulations! As you have completed the process of setting up a 37 gallon aquarium!
Now feed your fish and enjoy watching it move about in its new home!

NOTE: There is a particular procedure that needs to be followed while adding a fish to a new tank. It is not just about placing the fish in the water.
Everything needs to be done carefully. If you want to know more about it in detail, check our website.
STEP 6: MAINTENANCE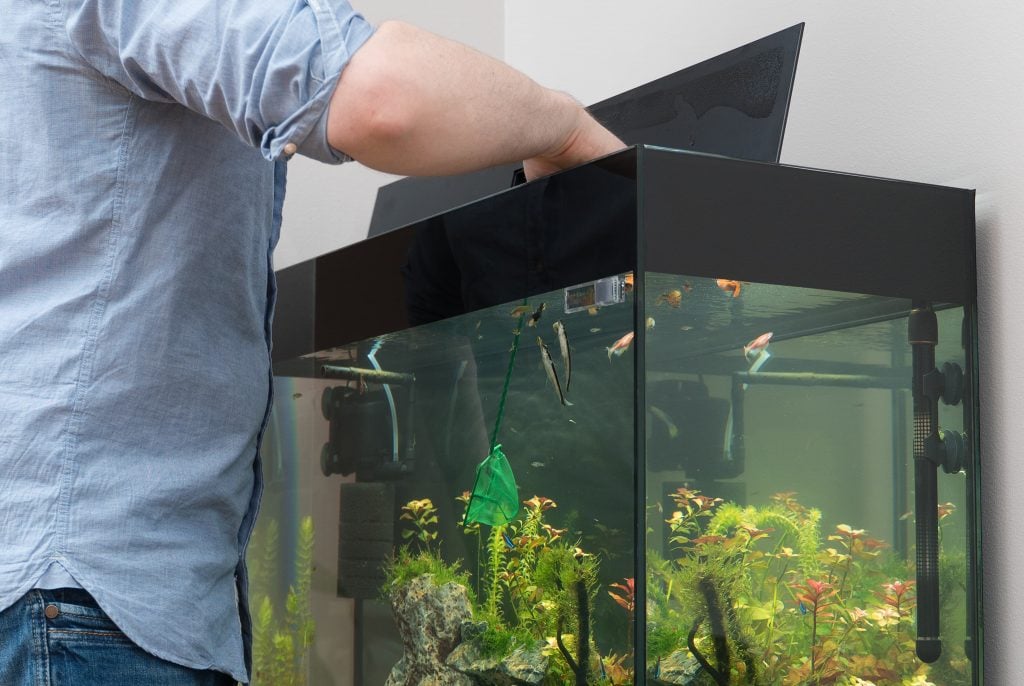 Work is never 100% complete with an aquarium. It is always half done!
When you have set up the aquarium, it is time for its time-to-time maintenance. Proper fish care is essential for their well-being.
It means more than just feeding the pets or putting everything necessary in the right place inside the tank.
Spending just 30 minutes in a week, on aquarium maintenance can prevent many common and consuming problems.
I will advise you to spend at least 30 minutes with your pet, in a week. I know these creatures are not very demanding, but they do require care.
FAQs
What is the typical size of a 37 Gallon aquarium?
A 37 gallon aquarium usually measures 30*12*22 inches (Length*Width*Height). But it could wary, depending on the shape of the tank.
What is the weight of a 37 gallon tank?
An aquarium of 37 gallon weighs 45 LBS, when empty and 415 LBS, when completely filled with water.
How many Otocinclus Catfish can I keep in a 37 gallon tank?
Since a 37 gallon aquarium is not big, you may stock a maximum of 6 Otocinclus Catfish in it.