Top 6 Wall-Mounted Fish Tanks of 2022
Imagine walking around your room with nothing but the paint on the wall. No pictures, wall-hanging, or television. How tedious that would seem right? Imagine just a blank space with nothing in it.
We can't even begin to imagine how the place we call our home would look, if we don't decorate it with our favorite things. 
We have the habit of adorning our room walls with things we like as they reflect our personality. We accessorize them with beautiful frames, vases, posters, wall-hangings, and even television.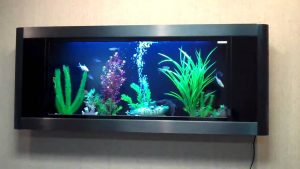 But, thanks to modern product innovation, as now you can mount even a fish tank on your wall. There are a ton of wall-mounted aquariums out there you can choose from and add a whole new appearance to your home or office. And to be honest, it has never been easier and affordable.
Who Is It For?
Who Is It For?
If you are one of those people who love to stand out, then gracing your wall with a wall-mounted fish tank is the best choice for you. It is trendy, elegant, and no-doubt, an attention grabber. It will for sure make a statement about you and the company you work for. These aquariums are also ideal for companies that involve a lot of customers waiting as they retain a positive aura.
Benefits
Benefits
We have seen normal fish tanks in a lot of places, but never one on the wall. So, when you find one, it creates a different kind of vibe which normal fish tanks fail to give. They are soothing and alluring at the same time. But that's not it to the number of benefits that wall-mounted tanks provide. When the aquarium is high up on the wall, there is enough space for people to walk through, which is obviously not possible with traditional tanks. It's the same reason why wall-mounted televisions came into place.
So even if you have a small room or office, you can decorate it accordingly. You don't need a large place to make it look attractive. In fact, if you ask me, it is easier and much more feasible to decorate a small space instead of a big one.
Drawbacks
Drawbacks
Here are the most important points that I would like to discuss with you. We already know that wall-mounted fish tanks are pretty in all sense, but there are some drawbacks that come with it.
You can call them drawbacks, or even simply things to consider before getting yourself one.
The first and foremost thing you should consider before getting such tank for your home or office is the strength of the wall on which you are going to mount it.
This is because these tanks are very heavy especially when you fill them with gallons of water. Even the smallest of all the tanks weighs as much as 100 pounds and may range up to 300 pounds. 
It is not light-weight at all. So make sure that your wall is able to handle the weight of the tank before buying one.
The second thing you should keep in mind before deciding to buy a wall-mounted fish tank for yourself is that these types of fish tanks are generally smaller than the usual ones. 
So obviously you will also have limited access to the kind of fish you can put inside it. Going by the usual size of these aquariums, they are not more than 4 inches in width.
So, I would recommend you to put only small fishes inside like Neon Tetra, Guppy, Gold Fish, Oscar, Mollies and Platy, because you don't want your fish to go only in one direction.
The third and final point to consider is checking your bank balance as these kinds of tanks are not budget-friendly. If you don't earn much, then they can put a deep hole in your pocket.
So please check your bank balance once, twice, or even thrice before getting yourself one. These tanks might be small and portable but they are dearer than usual tanks. They are like laptops!
Wall-Mounted Aquarium Reviews
​I have already told you the benefits and drawbacks of buying a wall-mounted fish tank. So the choice is yours to make whether you really want one or not.
Moving on, there is a huge variety of fish tanks available in the market. So you don't need to just stick to the first one you see. 
You have tons of choices to pick from. What choice you make totally depends on your budget and personal preference.
Here are some of the most popular tanks that you can begin your search from:
Aussie aquariums 2.0 wall mounted aquarium
No products found.
Pros
It is quite affordable, considering its dimensions
It is very reliable
Cons
It doesn't come with an automatic feeder so you need to get one on your own.
To kick-start our list, I've chosen this wall fish tank that measures 35.4" * 17.5" * 4.5" and weighs 34 pounds. It can hold 5 gallons of water, making it the ideal and light-weight choice if you are looking for something simple.
Though its retail price is mind-boggling, some sellers have realized that such a price is detrimental to sales, so they are offering it at an affordable range. You can get one from Amazon with free shipping too based on where you are located.
Along with it you will also get a multi-purpose submersible water filter, a lighting fixture and a removable lid.
The light and lid have been customized keeping in mind the dimensions of the tank. It gives a warm and colorful feel to your tank.
You will also get a siphon hose, a fish net and a set of grabber tongs for cleaning the tank. This tank is incredibly strong with a clean glass, which means that you will be able to see clearly what's going on in the world of your fish and enjoy the view all day.
However, since this tank is not that big, it limits your fish options. It's not the fault of the manufacturer but can be called a design limitation. 
But overall, it's surely a great addition to any wall space and always makes for a great conversation starter.
Bayshore aquarium small round porthole wall aquarium
Last update on 2023-09-26 / Affiliate links / Images from Amazon Product Advertising API
Pros
Quite affordable considering its dimensions
Marvelous design
Easy to mount
Cons
Cannot hold more than one or a few fishes
It is tedious to feed the fish and clean the tank.
If you are looking for a tank that adds a bit of spark to your wall space and a focal point to your room, you won't get better than this one.
What I really love about this tank is that it comes with a durable and highly attractive brushed aluminum border effect. It is no doubt an awesome touch to your fish tank. 
Also, it is very easy to mount and gives a feel that there is a whole oceanic wall beyond the wall.Talking about the specifications, it measures 22 inches across, 4.5 inches width, and weighs 17 pounds.
The best thing about this tank is that it is very light since it is made of stainless steel and so resistant to corrosion. The tank is made from safe tempered glass which is 5mm thick. Besides, it can hold 2-3 gallons of water.
The tank comes with a kit which includes a robust submersible filter and custom-fitted lighting fixture. Inside the tank there is a beautiful background of the Australian Great Barrier Reef.
It comes with a removable glass lid, a siphon hose to remove water, a fishnet, a grabber, a scrubber and algae cleaner. You will also get a manual with mounting and maintenance instructions.
Bayshore aquarium rectangular wall aquarium
Last update on 2023-09-26 / Affiliate links / Images from Amazon Product Advertising API
Pros
It gives an elegant look to your wall with all the lights and background.
It comes with an automatic feeder to make your life easier
Works reliably
Cons
It is narrow, so you will have to pay attention to oxygenation issues.
Tank is difficult to clean as you won't be able to get your arm down to the bottom.​
It cannot hold more than a few fish.
The third wall-mounted fish tank I have chosen is also from Bayshore. It is highly-attractive, durable, and makes you feel as if you are staring into a TV screen.
This rectangular aquarium comes in various sizes - from medium to large. With medium, the specifications are 34*4.5*23 inches and 35 pound weight. 
While the large one measures 47.5*4.5*25 inches and weighs 54 pounds. There is also a bigger size than the large one which can hold 9 gallons of water.This tank is made of safe tempered glass with 5mm thickness. There is also a bubble acrylic version available.
Like the porthole tank, it comes with a removable glass lid, a siphon hose to remove water, a fishnet, a grabber, a scrubber, and algae cleaner, a robust submersible filter and custom-fitted lighting fixture. 
Inside the tank there is a beautiful background of the Australian Great Barrier Reef and a hidden 4-outlet adapter. The best thing about this tank is that it comes with an automatic feeder which makes the upkeep of fish easy for you.
Wall mounted aquarium 8 gallon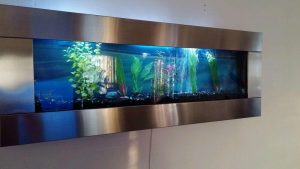 Pros
Gives an elegant look to your room
You can use this for saltwater or freshwater
It comes with an in-built power box that can handle up to 4 outlets.
Easy maintenance
Comes with a 1 year warranty and 30 days return policy
Reasonable price
Cons
With the plugins, sometimes the wires can be distracting.
Manufactured by the Jersey Home Decor, this is an 8 gallon tank that measures 48*18 inches and protrudes by about 4.5 inches from the wall. 
What makes this aquarium eye-catching are the wide stainless steel borders and changeable lights. It adjusts according to your needs in the sense that you can mount it on the wall and even recess it into the wall when feel like. This aquarium comes with filters, light fixtures, and all cleaning tools.
Aussie aquariums panoramic wall mounted aquarium
Last update on 2023-09-26 / Affiliate links / Images from Amazon Product Advertising API
Pros
You can pick the tank that goes well with your interior design as there are various options available.
It gives a marvelous look to your home
No difficulty in mounting if you follow the instructions right.
Cons
It is quite expensive if you consider that it does not come with an automatic feeder. ​
If your wall has the perfect space, then this aquarium is ideal for you. It is the bigger cousin of the tank I have just mentioned above. 
On the outside, it measures 18*6*71 inches while the actual tank measures 15.7*4.5*69 inches. It can hold up to 11.5 gallons of water and weighs 59 pounds.
This tank comes with beautiful light fixture, brushed aluminum plate for frame, and 3 interchangeable marine backgrounds (rock, blue sea, sea life). Choices are also available for the frame. 
You can choose from gold, copper, black and silver frames.With this, you will get a standard submersible water filter with multiple functions along with a siphon hose, fishnet, and grabber tongs. You will also get the mounting brackets with instructions.
Aquavista panoramic wall aquarium
Aquavista Panoramic Wall Aquarium, Black, 5-Feet Wide
Low Maintenance -designed to simplify your life, the Aquavista Panoramic Wall Aquarium requires less than 15 minutes per month
No Daily Care -complete with embedded Automatic Feeder, caring for your fish has never been easier; Just refill the feeder periodically and enjoy
Easy Set Up with Space Saving Design -no assembly required; Custom mounting brackets makes hanging safe and easy
Self-contained Advanced Aquarium System
Create an Underwater Garden -each unit comes with a Carbon Dioxide Generator that allows live plants to photosynthesize and prosper
Last update on 2023-09-26 / Affiliate links / Images from Amazon Product Advertising API
Pros
Maintenance is simple which requires just 15 minutes of your time in a month
Though the retail price is quite high, the discounted price is reasonable
It is pre-assembled so all you have to do is mount it
Cons
Comes with a 1 year warranty so you don't need to worry about asking the customer support for help.
This one is the true premium model but thanks to some of the sellers who are selling it at a reasonable price. It measures 70.1*5.9*23.6 inches and weighs 130 pounds. 
It comes with an air pump, heater, dual filtration, and automatic feeder to make your life easier. You can even get a carbon dioxide generator with this tank for the living plants inside.
Conclusion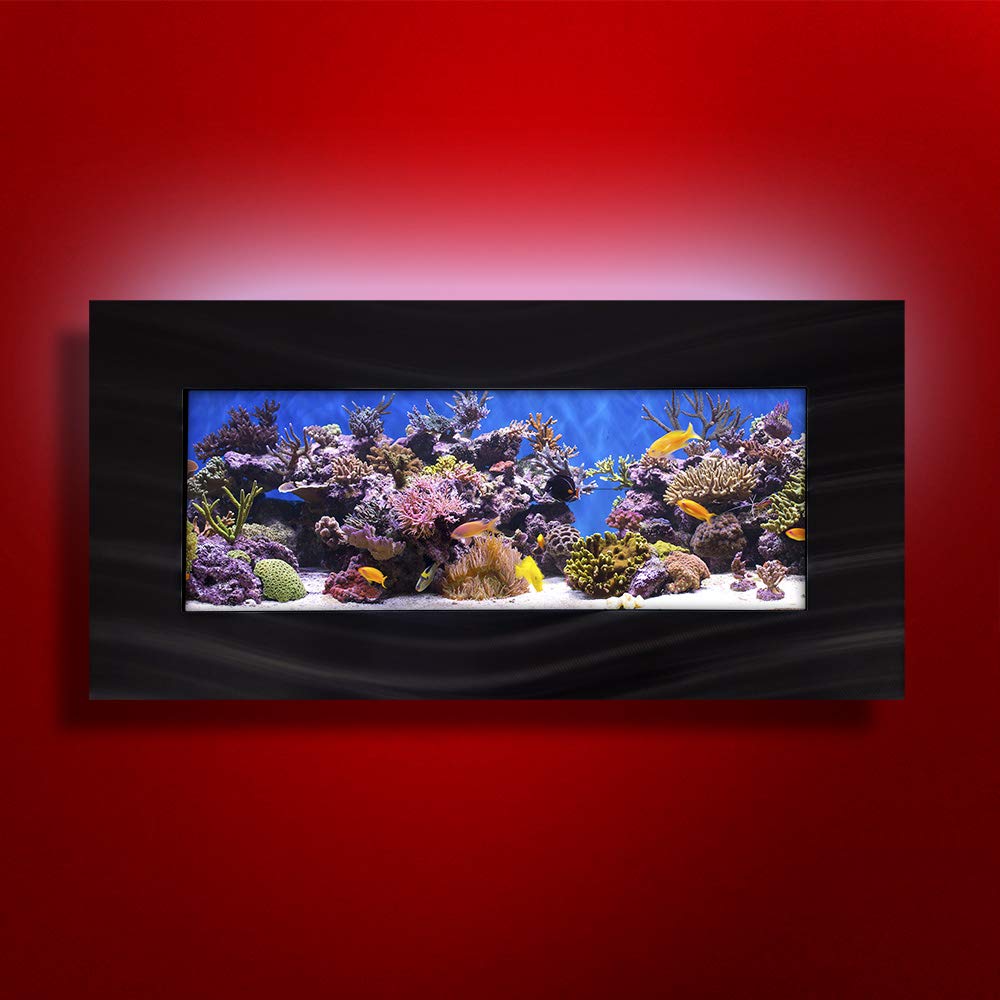 In the end, I have to say that pick the one that fits your budget and your wall space. Don't take decisions in a hurry. And, understand the challenges that come with maintaining fish tanks with such narrow designs.
My Recommendation– Aussie aquariums 2.0 wall mounted aquarium