Top Rated 55 Gallon Stands to Choose From
When you think of getting a fish tank for your home or office, the first thing that comes to your mind is the ideal size to buy. There are various types of aquariums available in the market according to your needs.
But most of the times people choose to go for a size which is neither too small nor too large. This is because they normally prefer to pet small fishes, not big ones and these small fishes can easily live in a medium sized tank.
For the majority of fish tank owners, the 55 Gallon mark is the perfect fit if you are thinking of getting different sizes of fish for your aquarium. This tank also has tons of space for decoration.
But along with the beautiful and incredible size, come some of the weight issues. The 55 gallon mark fish tank might seem classy to look at, but it is very heavy. Its dimensions can reach up to 58*13*21 and weigh up to 550 pounds.
It means that you won't be able to just prop it up at your flimsy table or shelf. You will need a robust 55 gallon stand that looks good and can fully support your fish tank.
Choosing the right fish tank stand isn't easy. There are a variety of them available in the market which might suit your needs. So it gets confusing to choose the right one from among them all. 
To eradicate that problem, here I have shortlisted some of the best ones right now, from top companies, along with their pros and cons for you.
I have taken everything into account from their functionality, features, and of course the price. It will help you a lot in finding out which one is the ideal match for your home or office.
Advantages of a readymade stand
Having a separate stand for your fish tank comes handy. It not only looks good but also solves a lot of your problems if you get the right one.
If you are looking for an ideal stand that fulfills all your requirements, then a 55 gallon stand is the one to look for. It comes in incredible designs, has the right dimensions, and can bear the entire weight of the tank.
However, before getting one, you also need to consider if your tank is made of acrylic or glass. Because if your tank is made of glass, then it is enough that you provide support for only the edges.
But if it is of acrylic, then you will need a bottom support for the length and width as well.
Disadvantages of a readymade stand
The main problem faced by people before getting a separate stand is the price. These stands cost a lot. And at one point, some people might even feel that this hobby of theirs, is costing them a lot and is all about spending.
Another thing that can be annoying is when you spend so much on a stand but don't get the right size.
You will have to consider a lot of things before getting the right stand for your fish tank. It means that you have to devote some time in reading reviews, specifications, uses, and drawbacks about the tank stands before getting one.
Otherwise, you will waste your money. Also, consider the look of your room before sticking on one design.
Types of stands
There are three different types of tank stands to choose from: wood, metal, or a mix-media stand. All 3 have their own pros and cons.
Metal
Metal fish tank stands are the most popular of all the 3 available. The main reason is their cheap price. These tanks are quite affordable but since they are usually designed to support the edges of an aquarium, they are good for glass fish tanks and not acrylic.
So for your glass fish tank, you have to make sure the stand is treated properly for corrosion resistance. It is an absolute priority because there are good chances of the stand getting wet which will lead to rusting. 
Overtime, the stand will come crashing down and all your money would go to waste.Another problem with these stands is the lack of storage space for your aquarium equipment.
It means that you will have to keep all the necessary items for your fish tank away in a separate space.
Wood
Wooden tank stands are popular among people who are obsessed with decorating their homes as they look more of another piece of furniture than just a stand.
There are many available in the market with cabinets which means that you can store your aquarium equipment right below the tank. 
These tanks come in various styles and sizes. You can choose the one complementing the interior design of your room or office.
Another advantage of these wooden tanks is full support on the bottom. It means that you can even put an acrylic tank on it. Moving on to the disadvantages, with wooden stands again you have to take care that they do not get wet. 
Before purchasing one, you will have to make sure that it is fully-furnished so that it can stand getting wet on a regular basis.
Another disadvantage is that the wooden stands are made of particle boards or MDF (Medium Density Fiberboard). 
These particles do not make for high quality and don't do well in places with high moisture. So MDF is a better option. Also, they are more expensive than metal stands.
Mixed media
​These type of stands are a mix of metal and wood. They offer wood support but the fasteners of cabinet are made of metal. It makes it able to support even the acrylic tanks fully.
However, the price can be a bit higher than the other two.Plastic stands are the fourth type which are gaining their share in the market. 
They can hold a lot of weight and are also fit for acrylic tanks. These tanks come in attractive designs but the problem is, they are very uncommon.
Placement
If you are an experience holder in fish tanks, you must know the right place and way to put a fish tank. The basic rules of aquarium placement includes: put them away from sunlight, vents or any place where the temperature changes quickly.
Don't put them near doorway, speakers and places with constant noise as it would hamper the peace of marine life.
Make sure that your stand is kept near the power socket for your accessories. Also, there must be a wash basin or any other drain nearby so that you can change water easily without messing up your room.
Plus, if you have a 55 gallon fish tank, you should avoid putting it in the middle of the room. Instead, put it next to a weight-bearing wall.
Now that we know everything about fish tank stands, I will move forward to give you a look into the top gallon stands available in the market.
I have included the feature, pros and cons, and price, of the tanks to help you choose the right stand for you.
55 Gallon Aquarium Stands Reviews:
Aquatic fundamentals 55 gallon upright aquarium stand
No products found.
Pros
It is the best fit for glass as well as acrylic tanks.
The locking cam assembly is made from metal parts.
It has an elegant style.
 It is made of dense fiberboard with moisture resistant powder coating.
Cons
It is the most expensive among all the 5 given in this list.
There are not any adjustable feet for leveling.
This is a mixed media stand which measures 49.4*13.1*28.2 which makes it the best fit for a 55 gallon tank. It is a cabinet style stand which offers full base support. 
This feature makes it ideal for acrylic tanks as well as glass ones. This stand has enough space for keeping all your aquarium equipment. It weighs 74.6 pounds.
Petco Brooklyn 55 gallon metal tank stand
Last update on 2023-11-30 / Affiliate links / Images from Amazon Product Advertising API
Pros
It is easy to assemble.
It is affordable.
It is made of durable solid steel.
It comes with powder coated finish for resistance from moisture.
It has adjustable feet for leveling.
It is strong enough to support more than 550 pounds of weight.
Cons
It is limited to glass tanks.
Its look is more functional than stylish.
Its finish scratches easily.
This fish tank stand has a very basic style. It measures 48.5*13.5*29.5 and weighs around 34.5 pounds. The size is ideal for fitting a good 55 gallon fish tank.
However, the main disadvantage that comes with this type of tank is that it only provides support for the edges which keeps it limited to glass fish tanks and not acrylic one. 
But if you are looking for simple, casual tank stand which is not over-the-top, this tank will fit your needs.
Aquatic fundamentals mixed media series with storage
Pros
It is easy to put together.
It has enough space for keeping your stuff.
It is ideal for both glass and acrylic fish tanks.
It looks very stylish.
Cons
If it gets wet, you need to clean it right away as it does not come with moisture resistant coating.
Make sure that you level it right before putting the tank on it.
This classy looking fish tank stand measures 48*13.5*27.87 and weighs around 69 pounds. This beautiful stand comes with a top shelf along with two cabinets at the bottom.
If you are among those people who love to decorate their homes, then this stand is ideal for you. It has enough space for accessorizing and keeping all your aquarium equipment.
This tank is made from MDF which is a very good quality and the locking cam assembly is made of metal.
Caitec bird toys double aquarium stands
Sale
TitanEze 55 Gallon Double Aquarium Stand (2 Stands in 1), Fish Tank Stand, Bird Cage Stand, 50.5" W x 32" H x 13" D
STRONG AND DURABLE: TitanEze Double Stand for fish aquarium, bird cage, or other small animal tanks features double wall construction, heavy duty polymer feet; Our stands are powder coated and resistant to rust and water damage
SPACE SAVING: Save valuable floor space with our 2-tier stand for fish tanks and aquariums; This stand can hold two same-size fish tanks, birdcages, or other pet habitats
EASY ASSEMBLY: No tools required for assembly of TitanEze aquarium stands! With a fully knock-down design, this aquarium stand assembles in just minutes
VERSATILE: With its sleek design, this stand will make a stylish addition to your home, office, classroom, or lab
2-TIER: Both top and bottom shelves can hold one 55 gallon tank each. Assembled dimensions: 50.5" W x 32" H x 13" D
Last update on 2023-12-01 / Affiliate links / Images from Amazon Product Advertising API
Pros
It does not take much space of your place.
It is powder coated which provides resistance from corrosion.
It is very easy to set up as there are no tools that need to be assembled.
Cons
You will have to make sure that the feet of the stand are not wobbly.
The stand could be heavy so you need to make sure that the floor can take the weight.
This simple looking fish tank stand measures 50.5*32*13 with a dimension opening of 46.5*11.25. It can hold up to 55 gallons of weight. The bottom shelf is there to support the same tank or anything smaller.
Aquatic fundamentals 50/65 gallon upright stand
No products found.
Pros
It looks very elegant.
You don't need to worry about its durability.
It is very easy to assemble as it comes with an instruction book. You just have to lay out the parts and read the directions. All you need for assembling it is a screwdriver.
The storage space at the bottom comes handy.
Cons
You have to read the instructions in the manual carefully otherwise you will mess it up.
This aquarium stand is one of the most rich-looking stands mentioned here. If you like adorning your home with beautiful stuff and this piece is the best for you.
The best thing about this aquarium stand is that it provides support to the tank not just at the corners but at the whole base. 
Which makes it the perfect fit for a glass as well as an acrylic tank.On this stand, you can place a wide variety of aquariums from small to big ones.
It is made of high quality metal. It has a longer life than those available in the market. Unlike the cheaper stands that cut costs by using wood screws and glue in construction, this stand uses metal.
Adding to it, unlike the rest of the metal stands which only acts as a showpiece with no space for putting stuff, this stand stands out. It functions as a stand and a storage compartment.
You just have to push the front panel and inside you will find a lot of space for your supplies.
Conclusion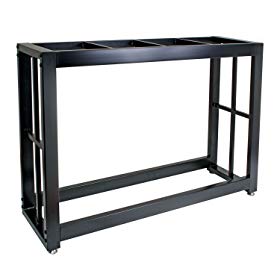 As you can see, there are plenty of 55 gallon aquarium tank stands out there that are just waiting to light up your home. You have so many to choose from but I have made that task simpler for you.
The type of stand you decide to buy actually depends on the kind of aquarium you have. 
If you have a glass aquarium, then I would recommend the Petco Brooklyn. It is everything you need. It is strong, durable, easy to assemble and beautiful looking. And its best feature is that you can adjust its feet.
Now, if you have an aquarium made from acrylic, I would advise you to get the Aquatic Fundamentals Mixed Media Series mainly because it is made of MDF material which provides durability. 
Also, there are cabinets which provide a lot of space for your equipment.
Lastly, do not forget to consider the piece which complements the decor of your room.